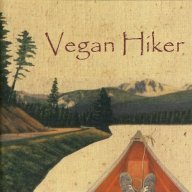 Joined

Jul 5, 2014
Messages

2,089
January 31, 2015
About 20 minutes outside of Lake Placid, site of the 1980 Winter Olympics where Al Michaels asked the country "Do you believe in miracles?", is the Giant Mountain Wilderness; part of the Adirondack High Peaks region. At 6 million acres, the Adirondacks region is the largest publicly protected area in the contiguous United States.
This past Friday, I skipped out of work a little early and took the 4 hour drive up to the ADK's. The bunks at the hiker hostel were booked up, so I ended up at a motel in Schroon Lake, a town dominated by ice fisherman during the winter months. The next morning I set out to hike Giant Mountain, the 12th highest peak of the 46 ADK high peaks. The route I took was only 6.8 miles, but is steep and challenging with a stretch that climbs over 3,000 feet in just 2.4 miles. The hike took about 7.5 hours despite a quick descent aided by several glissades (some on purpose, others not so much). The trail conditions were good and the trail was packed down well. Snowshoes stayed on the whole time.
The forecast called for abundant sunshine but cold temps. Driving to the trailhead my car read -12 degrees, and it got much colder as I climbed, and the summit was brutally cold. I forgot to check my thermometer but I'm guessing it was colder than -30 easily at the summit. I picked up the Osprey insulated tube and bite valve cover but it didn't have a chance. The tube froze solid after 5-10 minutes.
Checking the temps on my phone when I woke up.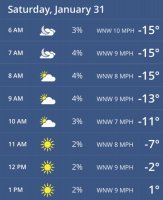 The climb starts out steep and remains steep up until you reach the ridge up in the alpine zone.
The trail starts to flatten out a little as you approach the alpine zone although a few more heart pounding sections lay ahead.
The trail has many lookouts on the way up such as this one.
Another lookout looking towards the Great Range. I'm planning a 3 day Great Range Traverse this summer.
The alpine zone felt like an alpine tunnel at times.
Another look at the Great Range from an open area in the alpine zone.
Much of the trail looked like this.
... and like this.
Closer to the ridge, there were more open areas like this.
Finally arriving at the ridge.
The white trees looked cool against the backdrop of the deep blue sky.
A look back at the ridge.
Finally, some pictures from the summit.
The rime ice on the krummholz and pine trees near the summit was beautiful.
A few more shots of the rime ice on the ridge near the summit.
Featured image for home page: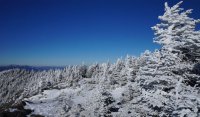 Last edited: