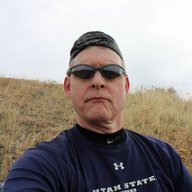 Joined

Dec 23, 2013
Messages

3,155
Little Mountain is one of the easier summits to reach in the Wasatch, but before today, I had never been to the summit. I had passed it on my way to and from Lookout Peak, and once when returning from Grandview, but just hadn't taken the little jaunt to the top on either of those hikes.
On a beautiful day, we had the summit and the Little Mountain Ridge all to ourselves.
View from near the trailhead, down Emigration Canyon
Little Dell Reservoir below
Moseying at its best
Dale Peak to the west
Lookout Peak to the north
Grandeur Peak to the southwest
The little peak between the hills in the center of the image is the summit of Little Mountain
Another shot down Emigration, with Parley's Ridge on the left and the Mount Wire ridge on the right, and the Oquirrh Mountains
in the far distance.
The Little Mountain Ridge in front of us after coming across the first big hill
Sheila, making her way up the Little Mountain Ridge, with the hill we came over behind
her
Another shot of Lookout
Still hiking up the ridge
Once on top of the ridge, most people head south for the view of Little Dell and Parley's
Canyon, but the true summit is to the north. We had to break trail along the ridge, but
there have been elk here at some point.
Approaching the Little Mountain summit, with the small hump just over the distant ridge being Big Mountain
A look south from the Little Mountain summit with Broads Fork Twin Peaks in the far distance.
Grandview Peak
A summit shot after finishing lunch.
The End.
Last edited: