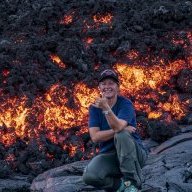 Joined

Jan 19, 2012
Messages

4,070
Today I decided to hike Sepulcher Mountain trail which is about 13 miles long with about 3,200 ft. of elevation gain. This would be a tough one for me but I really wanted to do it. Under normal circumstances, I would be fine but with my limited lung capacity, it would be a hard one to do. I was definitely ready, and I needed to find my limits.
The trailhead was the same as Beaver Ponds trail in Mammoth but split up after about a mile. As soon as I turned left on the Sepulcher Mountain trail, I started to gain elevation.
the trail starts next to the terraces
I definitely took my time. The trail went through a forest of Lodgepole Pines; they were spared by the 1988 fires. I heard elk bugling in the distance, enjoyed the scenery.
after the junction, the trail goes through a forested area
On a small plateau surrounded by deadfall, I had an early lunch break.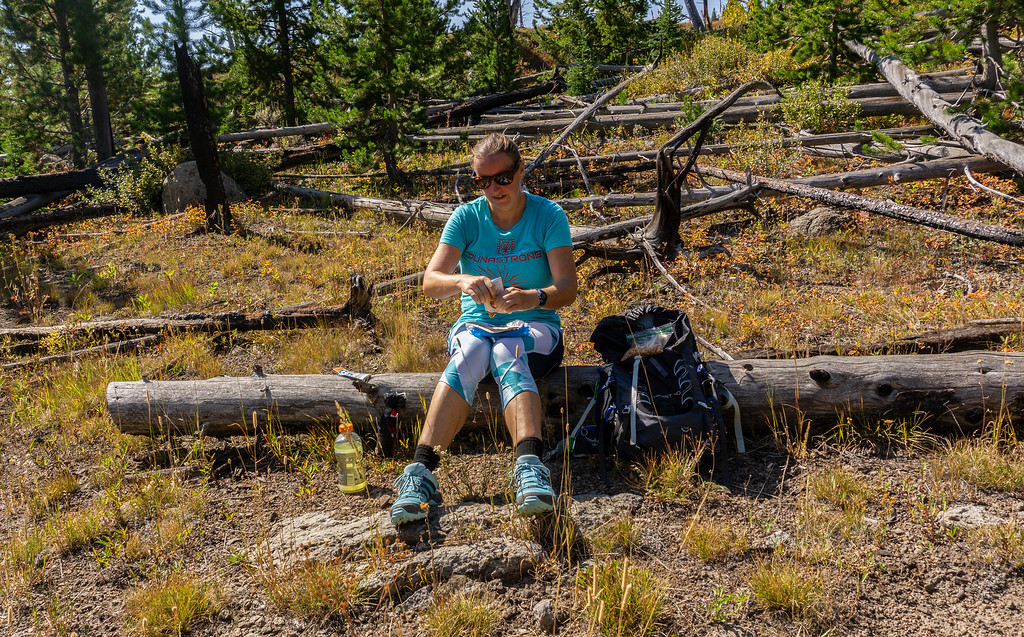 Soon after I left this spot the trail tremendously started to climb. Higher and higher I went, huffing and puffing and coughing. I guess with all that noise I did not have to worry about Grizzly bears at all, lol. The trail bordered the Gallatin Bear Management area and usually had a lot of Grizzly activity. Obvious signs were definitely visible in many spots. Scat, scratch marks, even the smell of bears was here. I reached a saddle between the climbs and enjoyed the relatively flat section.
looking to the northeast from the trail with Mount Everts
a flat section of the trail
This hike was a leg burner for sure and with the lack of sufficiently taking in oxygen, it was tough. I had to stop a lot of times because I couldn't get air fast enough. I pushed harder, I just wanted to do it. I never give up and I definitely wouldn't do it on this hike. The next forested section followed, full of scratch marks on several trees. I climbed higher and eventually the first views down towards Gardiner came into sight.
Northern Range, Gardiner from above
It was pretty cool and definitely worth all the effort. Another short but steep climb followed and I reached the first bluffs made of volcanic tuff. To the west was Electric Peak, one of the most prominent peaks in Yellowstone. One day I would go to the top of it as well.
Electric Peak
I enjoyed the views at the summit of Sepulcher Mountain, excited that I made it to the top. Some dark clouds were lingering in the distance and I checked the weather forecast. The radar showed they were moving in the opposite direction and I relaxed a bit. I wouldn't want to be up here during an electric storm.
The hike down followed the south flank of Sepulcher Mountain, a steep down climb with a lot of switchbacks and elevation loss. Most of the south flank was without any trees and sagebrush dominated the scenery.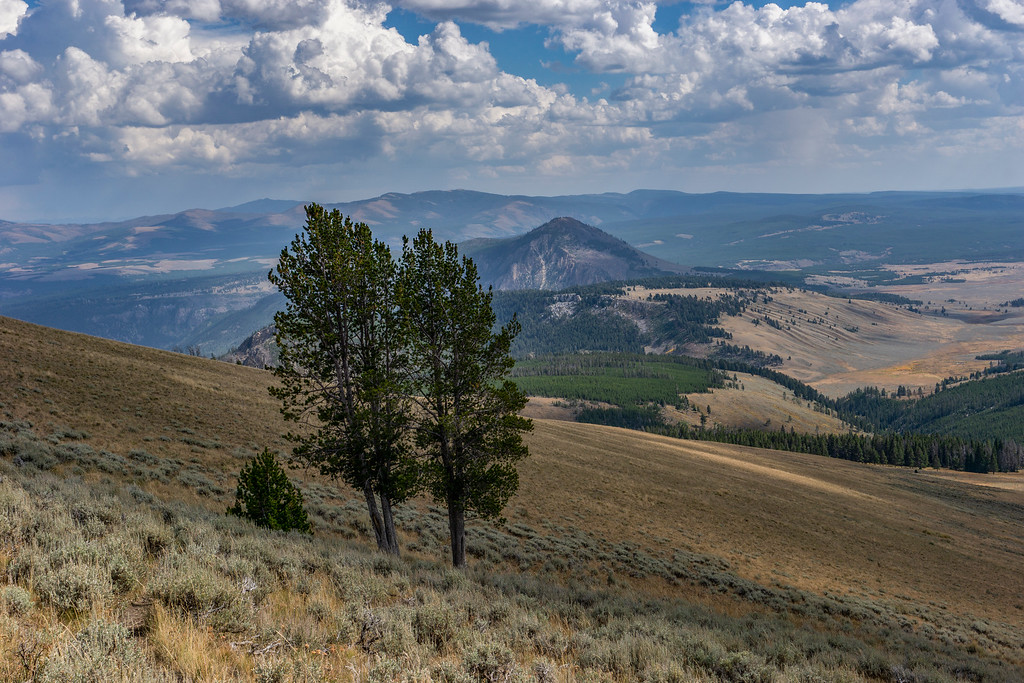 the South flank of Sepulcher Mountain with Bunsen Peak in the distance, Gardner's Hole and Swan Lake Flats
I was halfway down when I heard the first rumbles of thunder.
I checked the radar and a storm cell had popped up and was moving pretty fast into my direction.
This was not good. I started to hurry, almost running down. I definitely wanted to make it down to the tree line before the storm hit. The storm moved in faster and I tried to walk as fast as I could. Not easy when you can't breathe pretty well.
Eventually, I reached Glen Creek and Glen Creek trail. I still had a few miles to go. But finally, I was at timberline again. The storm hit with full force and a gust front created strong winds with lightning.
I walked through the forested area and all of a sudden I heard all these booms!!! I froze in my movements, puzzled what it was. Had lightning hit a tree and it just exploded? Another boom, this time closer. And then another one, this time the earth trembled. That was scary!!!
I finally figured out what it was. It were some snags crushing down to the ground. The strong winds took a good toll on all the dead trees!! I definitely did not want to stay here, that was scarier than an electric storm. I picked up my pace and pushed forward, as fast as I could. It rained and hailed but I still had a few miles to go. No more pictures, I just kept moving on. I went across Snow Pass, it rained but the storm moved on.
What an adventure!! I reached Upper Terrace of Mammoth, saw some elk and had some moody scenes.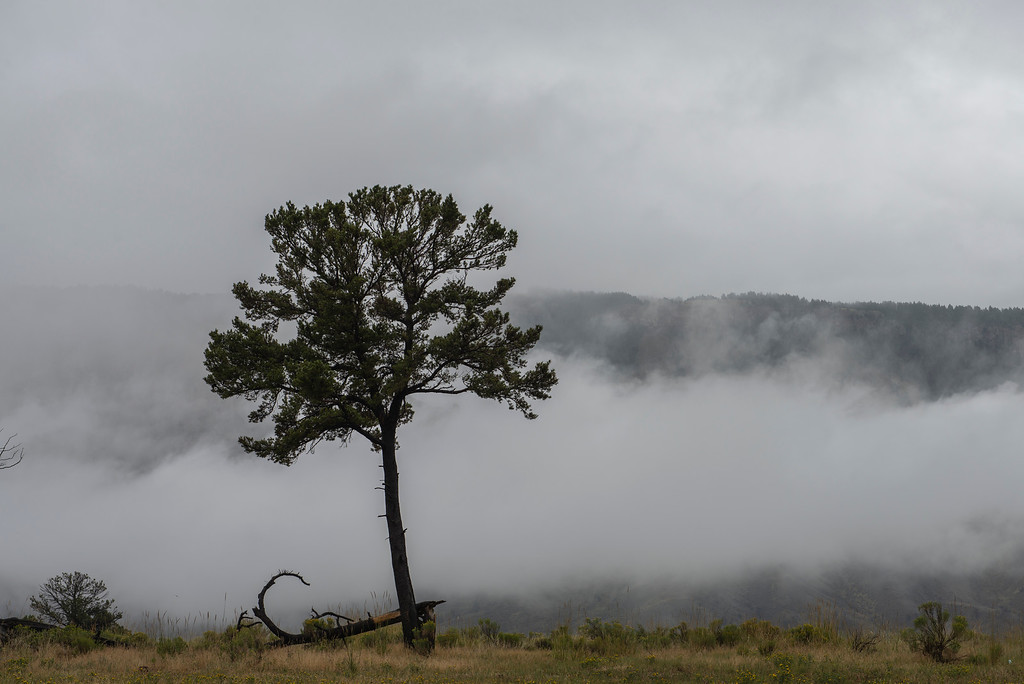 Liberty Cap - finally back at the trailhead
Almost back at the trailhead, the rain lifted and the sun came out again. I really loved the hike and the views on top of Sepulcher Mountain, but definitely do not need to have the stormy experience again. I definitely want to do the hike again, it was just amazing with all the elevation gain and scenery.