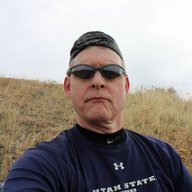 Joined

Dec 23, 2013
Messages

3,169
I was supposed to hike to the top of Reid's Peak on my annual Uinta trip, but since the weather called for storms, I didn't feel comfortable summitting Reid's, which I have never attempted before, in a cloud, so I instead did the old standby, Bald Mountain. Someone at our campground had said that the storm was supposed to move in around 1:00 pm, so I hit the trailhead around 10:30 in the morning. Unfortunately, even at that time, the top of Bald Mountain was already in a cloud. About 1/3 of the way up, it began to drizzle, and maybe halfway to the top it began to rain with a little more authority. Pretty soon I was just hiking through the cloud. When I did reach the summit, the clouds broke for a few minutes. I took advantage of the break and took some shots down towards Moosehorn Lake and vicinity. Heading back down, it clouded up again and began to rain.
Clear at the trailhead
Cloudy up top
Harebell along the trail
Storm clouds to the west
Murdock Mountain
Looking out towards Mount Watson
Haystack Mountain
The trail
Buckwheat along the trail
Yarrow
Arnica
Fleabane
The trail makes it way through a small stand of conifers
Heading on into the cloud - drizzling at this point
Not sure what this plant is
Back to just rocks
Thistle
Paintbrush and buckwheat
Rain and wind have picked up by this point and my hands are getting a little chilly
Selfie
Kind of an eerie feeling to it.
Looking into the abyss
Reduced visibility
Rock stairs to the top
Moosehorn Lake below as the clouds cleared for a couple of minutes
Can you make out Reid's Peak?
It's peaking out from underneath the cloud
Heading back down
Clouds moving back in
You can see a little further now
Reid's peak peeking through again
Some stonecrop
Cloud covered Hayden Peak from the overlook
Pearly everlasting
Hayden Peak on my ay back to camp
Kletting Peak on my way back to camp.
The End.