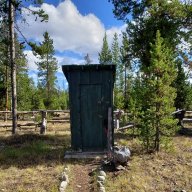 Joined

Feb 15, 2020
Messages

401
Another day trip to Rocky Mountain NP. I'll keep this one short, since about the first 50% overlaps with my
Sky Pond report
from last week and conditions were substantially similar.
In the
To Do in 2023 post
I connected with
@RyanP
who has some similar winter goals this year and he invited me along for this one. His teenage son and a co-worker were joining us as well.
Black Lake is another very popular summer hike out of the very popular Glacier Gorge/Bear Lake THs. We didn't get to the TH until a little after 10a and were able to grab a spot in the Bear Lake lot, though it was definitely a bit busier than last weekend. The trail itself was fairly busy until Mills Lake, but dropped off abruptly after - in fact, we had the honor of breaking trail from shorly after Mills Lake until arriving at Black Lake. Snowshoes were essentially required after Mills Lake.
Even better weather than last week - though I could've done with about 10° colder. Lots of wind up high, but we were well sheltered on our route.
Looking across Mills Lake.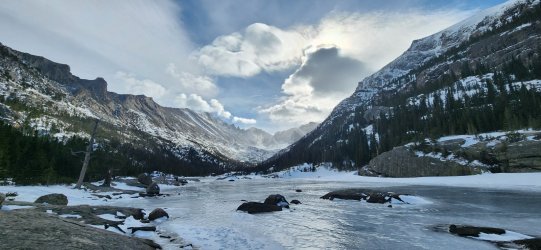 Fun cloud formations over Mills Lake. The upper level clouds were zooming across the sky.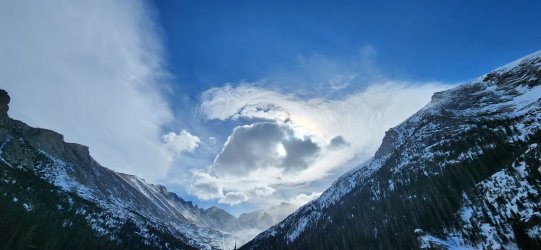 Looking back across the lake.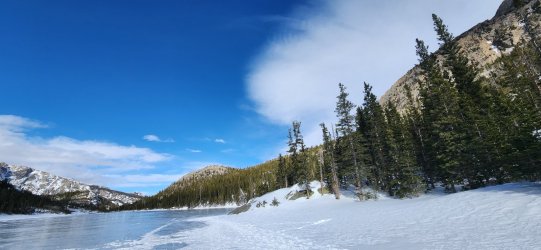 Our "trail" w/ the Arrowhead in the deep background. The beaten trail ended quite abruptly as prior visitors decided not to push through the deep snow.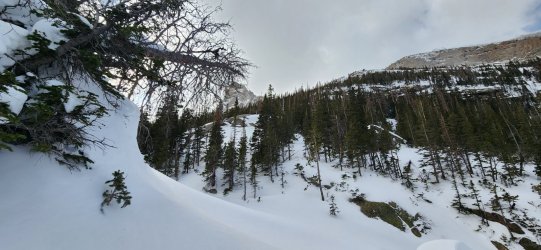 Followed directly up the drainage in some sections, however thin ice and running water made this less than ideal.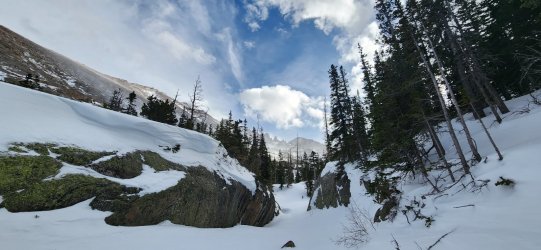 The crew pushing forward towards Black Lake.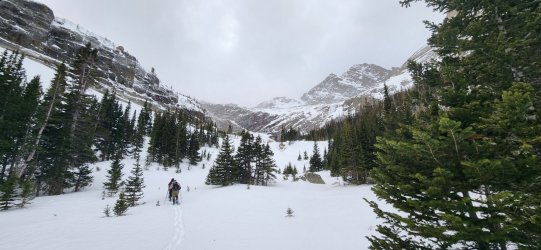 Large sheets of ice on the cliff sides around Black Lake. A popular place for ice climbing - and I can see why - but nobody there today.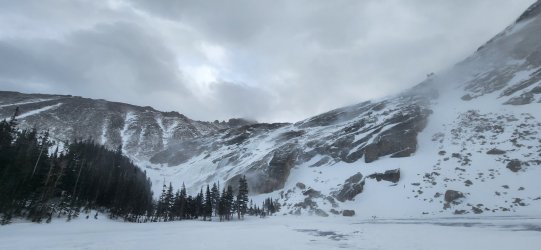 360° video of Black Lake.
Following our own tracks on the return made things much easier.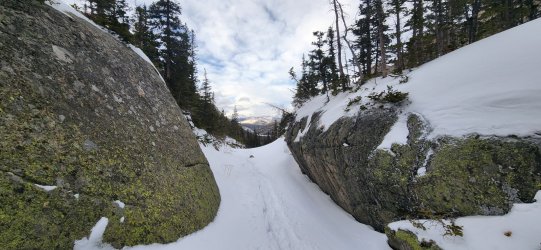 Another fun day in the mountains and an opportunity to hike with some new partners. It was a pleasure meeting all - thanks for the invite
@RyanP
. Hope to do it again soon!