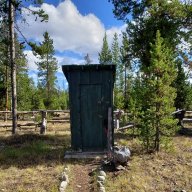 Joined

Feb 15, 2020
Messages

375
As part of my resolve to get out for more day hikes locally, I'm going to
try
to post a few more trip reports. We'll see if I can keep it up. (Plus,
@scatman
does it and I think he's basically who I want to be when I grow up.)
Decided to take this past Saturday and do a little winter hiking in RMNP. Up until the last second I really wasn't sure where I wanted to go. Sky Pond is a fantastic summer hike that I've done on a few prior occasions, but I'd never been up during the winter. Decided to give it a shot. Fortunately in winter I didn't need to wake up at 4a to avoid the crowds, so I slept in a bit and got on trail around 9a. Bear Lake TH parking was
maybe
1/3 full.
Conditions were fantastic and cold - pretty windy as I moved higher up, but not nearly as "bad" as many previous winter trips.
There was a pretty good trench all the way up to Loch Vale - only microspikes needed.
Looking down from the canyon a bit below Alberta Falls. Not much to see of the falls this time of year.
Looking up towards Glacier Gorge.
The sections below the Glacier Knobs were pretty windblown and dry - compared to the rest of the route.
Approaching Loch Vale where the wind really began to pick up. The windblown snow obscured the track in places, but still easy enough to follow.
Short video from the frozen Loch Vale.
Continuing up from Loch Vale. I was happy to have carried my snowshoes here - started postholing to my thighs w/o them. (Saw a couple people w/ only spikes making it up, but they didn't look like they were having as much fun.)
Steep ascent of Timberline Falls. Snowshoes came back off and axe came out for this part - not necessary, but good practice anyway.
Frozen main body of the falls. A couple guys were ice climbing this on my way down. Looked like fun, but so much gear...
Windblown section above the falls. I chatted w/ the climbers and one joked that it looked like a snowmaker was running off the top of the falls.
At Lake of Glass - hard to get a good picture w/ the sun reflecting off of everything.
First look at Sky Pond.
I've always loved The Sharkstooth. Very dramatic formation.
Quick video from the middle of Sky Pond.
Looking back across Loch Vale on the way down.
All in all it was a pretty nice day in the mountains.