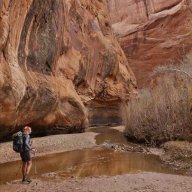 Joined

Jan 4, 2015
Messages

2,755
Hey gang, hoping to enlist the collective wisdom of the hive mind here. I'm hoping to hike one-way from the Terrace Hills Trailhead in the Upper Avenues to Big Mountain Summit and points beyond. This would be a weekend backpacking adventure. Fairly lightweight but not ultralight packs.
The question - what's, in your mind, the best way to get there? My thoughts below. Am nervous in particular about trail conditions in Upper City Creek. I've never been down that trail, but been on the GWT up there many times and never saw a trail junction, and there are a ton of stinging nettles in the area. This
report
doesn't exactly paint a rosy picture of the trail conditions. Anyone have an opinion/experience they'd be okay sharing?
Thanks!
Red Route:

Pros:
Not as strenuous, little elevation gain

Plenty of water most of the way
Cons:
Vague/non-existent trail conditions?

Nasty overgrowth/stinging nettles?

Trail near road once below the water treatment plant
Grandview Ridge Alt:

Pros:
Is doable, I've done it before

Great views along the ridge and from the peak
Cons:
No real trail up there, slow going along the ridge

Lots of vert/exertion
Black Mountain Alt:

Pros:
Avoids road in City Creek
Cons:
Lots of exertion

Things get a little scrambly up on the ridge if I recall correctly
Lookout Peak Alt:

Pros:
Avoids stinging nettles/City Creek potential bushwhack
Cons:
A ton of exertion and elevation

No water

Trail conditions unknown
Click here to view on CalTopo
Last edited: