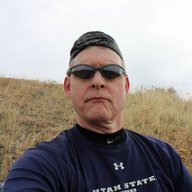 Joined

Dec 23, 2013
Messages

3,421
A nice hike up Black Mountain on Saturday, between a rainy Friday and a rainy Sunday, with the foothill wildflowers putting on a show for us.
Katie on the trail
Dyer's Woad
Milk Vetch
Dalmatian Toadflax
More vetch
Hawksbeard
@Rockskipper
, I think I got this right this time - a stink beetle
Common Yarrow
Death Camas
Hillside full of balsamroot
Lewis Flax
Mule's Ears, just beginning to bloom in the upper foothills
Arrowleafed Balsamroot - the dominant wildflower in the foothills, though in the lower elevations, they are starting to dry up a bit.
Ball-head Waterleaf
(L-R) Burro Peak, Grandview Peak, Black Mountain Ridge
Desert Paintbrush
Larkspur
Antelope Brush, Sage and Arrowleafed Balsamroot
Service Berry
Horned Lizard
Sniff, sniff
Bastard (no not me) Toadflax
Lookout Peak, viewed from the Black Mountain Ridge
Glacier Lilies
The Dude Benchmark, with the dried up Salt Lake beyond
Groundsel
Anyone know this shrub?
@Outdoor_Fool
? Is it manzanita?
Swallowtail on the ridge
Phlox
More Balsamroot
Homeward bound.