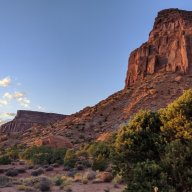 Joined

Jul 24, 2021
Messages

156
I'm planning a solo simple out and back backpack trip mid-late October, where I'll come in from Jumpup Cabin, down Ranger and then over Jumpup-Nail-Trail and descend into Sowats.
My hope is to setup camp near Mountain Sheep Spring and then day-hike down Jumpup canyon and return to camp that night and hike out the next day.

Couple questions:
1. Has anyone been by Mountain Sheep Spring recently and know if it's still a consistent flow?
2. What's the state of any ladders in Jumpup that might let me shortcut back up to the Ranger trail without the climb out of Sowats?