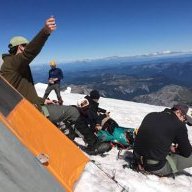 Joined

Mar 4, 2015
Messages

3
A group of six guys, all around 30 yrs old, are planning a quick overnight trip to the Grand Canyon. For the most part everyone is in good shape and have primitive camping experience w/ good gear (minimal experience @ GC though, just day hikes). We would like to send in our application for back country permits ASAP.

Constraints: Mid May or 2nd week/weekend in June. Have 3 days and 2 nights to spend in the Canyon. Flying in and out of Vegas. Lack of experience in GC I imagine would limit us to "threshold" and maybe a few "primitive" trails (No "Wild" trails).

Ideal Trip - Secluded trails with minimal outside interaction. No designated, crowded campsites. Would like to stay away from the Corridor. Back country is a must. Rim to rim trip would be incredible but in our limited time the logistics of getting back to our car via shuttle sounds like it would eat up a lot of time.

Timeline
Wed Night- Fly into Vegas, pick up rental car. gear check
Thur Early Morning - pick up fellow crew member from airport and haul to GC
Thur Mid-Day - make our way into canyon. Make Camp
Friday - hike and explore in GC
Sat- come out of canyon in the morning and head back to Vegas for a night on the town
Sun- Fly home

Need advice on trails/campsites sites that could help us fill out itinerary and some questions below:
N vs. S Rim
Base Camp for both nights or move around Thur and Friday

Any thoughts/recs/experiences are much appreciated. Thank you very much in advance!