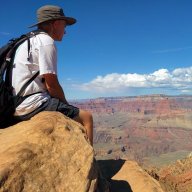 Joined

Dec 2, 2019
Messages

107
I recently used Dripping Canyon on Cedar Mesa to access some interesting rock-art panels and archaeological sites close to Grand Gulch. I parked next to Highway 276 and hiked cross-country across the mesa. I then descended into Dripping Canyon via a small side-drainage, and then hiked to Grand Gulch. I later exited Dripping Canyon by a different small drainage, and crossed Cedar Mesa to get back to my vehicle. I did this as a long day-hike.

I wasn't entirely sure that Dripping Canyon would provide access to Grand Gulch, due to the pour-offs in the main drainage. However, the final 'impassable' dry-fall, one mile from the Gulch is, in fact, crossable via a narrow exposed ledge and a steep, but secure, rubble slope. The 3 feet wide ledge initially looks intimidating, but it is short and relatively easy to navigate, with care. The other pour-offs, further up the canyon, are easily bypassed.

The main site I visited was fascinating, with several panels comprising numerous petroglyphs and pictographs on a steep rock-face. The large rocks at the base of the cliff were covered in many scratches, gouges, grooves, and notches. The most interesting was perhaps a flat rock with several metate-like 'smoothed' areas, each with a gouged hole, that were joined together by narrow scraped lines. There is such a plethora of things to see at this site, that perhaps it was visited by different groups of the Ancient Ones at different times, over the centuries. And, if this is the case, why here, at this particular cliff-face, I wonder ?

Also fascinating were 4 large pictographs that appear to have possibly been crudely 'covered-up' at a later point. It's difficult to be certain, but it appears that at least 2 of these images contained jewelry or head-dress adornments. I wonder if it possible that these 4 images were originally in the style of the 'Faces' pictographs (of which there are several in the Needles District of Canyonlands National Park) but were literally defaced by later visitors. I don't know Grand Gulch particularly well, but I'm not sure that there are any typical 'Faces' pictographs in this area. Why would they want to partially destroy these images ? It is, as always, one of the wonderful mysteries of the South-West and its original inhabitants.
Dripping Canyon
​
.
.
Obstacle #1
.
.
Obstacle #2 - deep pot-holes
.
.
Ledge and steep rubble slope next to final high pour-off
.
.
Exposed ledge
.
.
Pour-off
.
.
.
.
.
.
.
.
.
.
Gouged holes in flattened surfaces on rock, with scratched lines joining the holes
.
.
As above
.
.
Defaced (?) pictographs
...
.
.
More 'damaged' panels
.
.
.
.
.
.
.
.
.
.
.
.
.
.
.
.
.
.
.
.
.
.
.
.
.
.
.
.
.
.
.
.
.
.
.
.
.
.
.
.