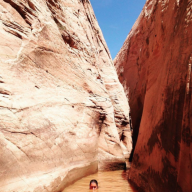 Joined

Mar 29, 2022
Messages

13
Hi everybody!

I am attempting (read: struggling) to plan a week long backpacking trip in the Grand Canyon for the end of October. I have backpacked the canyon before but never off the beaten path. I find the NPS website incredibly unhelpful for planning a trip like this (I completely understand why!) and am hoping anybody on here can shed some light on any of the trails mentioned, or suggest something I have not thought of? The Hermit trail to Boucher trail, and then perhaps connecting to Tonto trail to make it a loop has looked appealing to me. I'd like to spend a week, and I am not one to tack up miles quickly, ha. I really like to take my time and explore any and all side canyons and as I have descended into the canyon a number of times before I know how sore it makes some very unique places in my legs. So definitely not trying to do more than probably 30 miles total. But I am open to all suggestions. I would prefer to start form the South Rim since I live in Tucson and that would shave off a lot of driving, but I AM open to North Rim areas (just spent some time near Timp point last month and WOW! That's what got me started planning for this trip!)

So yeah, this is a little vague, but the planning process is pretty confusing with all the at-large zones plus individual campsites you can reserve within them....so if anyone has been on a trip you think might suit my desires here, I'd love to hear about it. Of course I know water will be an issue, but the Boucher trail appeals to me because Boucher creek is a perennial water source and I have been looking at planning routes more or less around that area.

As I have said in previous posts on here, when it comes to backpacking in national parks, I really hate to call the rangers for advice before I know more precisely where I'd like to go/more exact areas. I also know this is time sensitive as reserving Grand Canyon permits is a process in itself and for all I know, they may all be reserved. I think I will call today and see what's available in general, but regardless I would still love to hear from anyone who might have more knowledge of this area.

Thanks so much in advance.