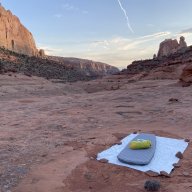 Joined

Apr 1, 2021
Messages

115
Was anyone else contacted by the park to fill out a questionnaire about your recent trip there? Or did any of you get sick?

Apparently, over 100 norovirus cases have been reported from backcountry visitors since May, and it's even making the news. I saw an online post from a woman who used her Garmin to call in helicopter rescue for two hikers who couldn't stop vomiting and couldn't keep hiking out. A 41-yr-old woman became unresponsive and died last week, but no cause was given so it might've been heat only, or heat plus norovirus. Currently, the park says all water sources should be boiled or chemically treated (indefinitely), but I sure hope that's just a temporary thing.

I only dipped into the park for two nights from the Kanab Creek Wilderness, but they wanted to know a million questions about my personal hygiene and water treatment and sources. The last day while hiking out, I actually had stomach cramps for the first time on a trip. I assumed it was from temps in the 90's and the previous night's meal not being fully rehydrated (crunchy beans!). Now I'm not sure. Half of my water came gushing from a crack in the rock and was collected before even hitting the ground, and the other half was from Kanab Creek and hadn't been above ground for more than a few miles at most. I felt fine once I reached the car and removed the tight hip belt, but who knows...

I just assumed it only affected dirty rafters, but it seems to be affecting hikers, too. Could norovirus even get into groundwater and springs? Does it usually only affect the Colorado and come from human or animal feces?