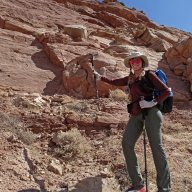 Joined

Jun 7, 2020
Messages

39
My husband Ray and I just got back from an epic adventure. We did a 7-day backpack/packraft loop in the Grand Canyon starting at the New Hance Trail. We hiked 82 miles with close to 30,000 feet of elevation change. We went down the New Hance Trail (arguably the hardest trail on the south rim), crossed the Colorado River in packrafts above Hance Rapid, hiked off-trail along thin ledges above 500-foot cliffs, and explored canyons rarely visited. We eventually worked our way over to the Clear Creek Trail, down through Phantom Ranch, up the South Kaibab to the Tonto Trail East Trail, up the Grandview Trail and back to the car at New Hance.
Here is the link to the trip report:
https://thru.live/2022/04/12/grand-canyon-backpack-packraft-loop-at-new-hance/
Here are a few photos:
Hiking down the New Hance Trail carrying a packraft and wearing nano spikes.
Dropping into Red Canyon and looking across at the Hakatai Formation (red beds).
First night camp on the Colorado River upstream from Hance Rapid
Packrafting across the Colorado River above Hance Rapid. Not great places to land but we made it
Hiking up above the inner gorge of the Canyon on the north side where there are no trails. I am looking
back at Hance Rapid.
Ledge walking - don't look down….
Grizzly-Bear Cacti glowing as the sun sets
Side-hill hiking and avoiding cacti.
What geologists will do just to go look at a few rocks….