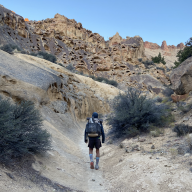 Joined

Dec 16, 2020
Messages

18
This summer I had the opportunity to spend 6 weeks traveling around the American west with my Danish partner and to take her on her first backpacking trip. We decided on the Grand Canyon, as it was too early in the season to be in the mountains (May), and neither of us had ever been in the big ditch before.
Quite by chance, we arrived to the North Rim the night before opening day. Driving in early the next morning, there was a long line of bumper to bumper traffic to get in. Still, we were only third in line at the permit office and within 30 minutes we walked out with our permits for the exact itinerary we wanted. Only having one car, we decided to do a loop - leaving from Indian Hollow Campground on the north rim, down tapeats creek, then along the colorado river to kanab canyon, up to Sowatt's point, then cross country back to the car.
The Grand Canyon is truly a rugged, wild place, with scenery unlike anything I've ever encountered before.
After a five minute walk from the trailhead, we emerged on the rim.
From the rim, we descended roughly 5k feet down some very steep, loose, and rocky paths. It must have been a brutally difficult task to build these trails, but I'm so thankful for the folks that did it. Hats off to the CCC.
See that patch of green below and to the left? That's Thunder Spring, a fast flowing stream of water that comes gushing right out of the canyon wall.
Thunder Spring (out of which flows Thunder River) up close. After walking for miles through hot, dry, exposed desert, we entered this oasis of fresh cool air, cottonwoods, flowers, and birdsong.
The topography and sheer size of the canyon walls allow one to share a bit of the sense of scale that is usually completely lost with cell phone photos.
The Tapeats creek trail follows these ledges down to the inner reaches of the canyon. Not pictured here, but there are some moments that are unexpectedly precarious and sketchy for an official national park trail.
The colorado! That is some cold, cold water.
We followed a rough use trail along the river to Deer Creek falls, a popular place for rafting trips to stop. From here, we had to yogi a ride on a boat down to Kanab Canyon. You can walk it on game trails high above the river, but we thought it would be more fun to ride.
It was definitely more fun to ride. We hitched our way downstream with an awesome group of folks.
The next morning, we started up Kanab Creek.
There is a bit of a social trail from time to time, but most of the time we were wading through the water, rock hopping, crawling through boulder nests, and traversing ledges above the canyon floor. It took a while, but it was thoroughly enjoyable.
Eventually we made it to the aptly named showerbath spring. One of many WOW! moments on the trip.
A mile or two beyond showerbath, the canyon dried out completely. It felt like walking on a highway after spending a full day in Kanab.
We followed a series of side canyons back up to the esplanade, none of which would I want to be anywhere near during a rain storm.
This canyon has been a sacred place for a very long time.
Saying goodbye to the canyon after a long steep climb up from the esplanade to the rim.
A cautionary tale from the way up: I was walking along a steep section when I hopped with one foot onto a large rock in the trail. As I landed, it rolled outwards with my full weight on it, sending me over the side. Without thinking or doing anything consciously, my body shifted to stay upright, landing with one foot on a ledge a full body-length below the trail and reaching an arm out to grab a small incut rock edge with just the fingertips on one hand. There was a shocked silence between my partner and I, the only sounds were the stones skittering down the steep rock slab and over the cliff edge below. It happened in an instant, and it was a truly humbling and eye-opening moment - the closest I've come to serious consequences in thousands of miles of hiking, and it happened within a half-mile of the trailhead, when mentally the hike was already "over".
We hugged, took a couple deep breaths, and made our way to the rim where we enjoyed a beautiful sunset and dinner from Sowat's point. The next morning, we had an easy six mile hike cross country to the Indian Hollow Camp. All in all, it ended up being one of my favorite trips ever, and I can't wait to get back out and explore some other parts of the canyon.
Last edited: