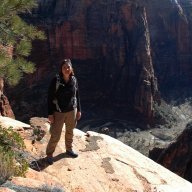 Joined

Jul 16, 2014
Messages

100
Back in March, I was invited on a trip down Tuckup Canyon to Stairway Canyon. Non technical but a rope and webbing was helpful for backpacks and a few downclimbs.
Heading down the trailhead into Tuckup
Cubicle rock, an important route marker for the way back out.
A stop at the Shaman's Panel.
Heading down Tuckup
Willow Creek coming in, beautiful but mineralized water which will make you feel not so good in the end.
Deepening canyon
Our first night, next to Conglomerate Arch. An owl was flying and calling through the early evening. It echoed on the canyon walls and made the coolest sounds.
The next day, small obstacles started.
Then came the chute down to the 20 foot ledge downclimb.
20 foot downclimb to the end of the canyon. It doesn't look too bad but the rock is smooth and therefore a bit scary. There's a piton at the top or a large nail halfway down, both of which would make a fine handline if you bring rope.
Then you're at the Colorado River
Now just 8 miles of bushwhacking to Stairway. Well some was rockhopping, some was bypassing and then there was bushwhacking.
My friend and my arms. We love bushwhacking!
Our next night's camp at Fern Glen.
Fern Glen
Yuccas in bloom.
We finished our bushwhacking the next day and had a long afternoon of rest at the mouth of Stairway.
Time to head up Stairway
There were two bypasses, the first past this 50 foot fall.
The second
past a 200 foot dryfall.
Finally at the top of the second bypass. A handline was really helpful for the last past of the climb, in order to get the backpacks up.
The 200 foot dryfall
Best campsite in the world, unless it rains.
Next day, up the canyon. The obstacles eased and we were on the Esplanade.
On the Esplanade.
By the Dome, then it's back to Cubicle Rock and up and out. Great trip!