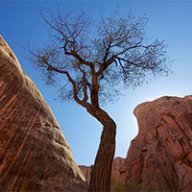 Joined

Aug 9, 2007
Messages

12,939
Anyone here know anything about Four Wheel Campers? It's a brand of pop-up truck camper that has a bit of a cult following. I've seen them around but I really took notice of one this weekend out at Toroweap when I noticed how nice it fit in a short bed truck bed. This one was parked in the site next to us:
After talking to the owner of that one, and doing a ton of research, I'm now feeling a little obsessed about getting my own. Going to the showroom today and getting in one didn't help much. I usually prefer to just sleep on the ground with no tent, but I'd really like to be able to take Audra out on more trips including off-season cold weather and long road trips type trips and this would make it really easy and fun for her. And the king size bed option would be like being at home. It would also be pretty nice to just always have my stuff packed and ready to go for trips the usual trips. Even if I'm going backpacking or river rafting, the stuff for the pre-camp night would always just be right there ready to go and I can still tow my raft trailer. Just get to camp, pop it up, go to sleep, close it down in the morning and hit the trail.
I have a pretty huge list of pros and cons going through my head. If I do it, do I go with the smaller one for the 5.5 foot bed on my current truck or do I go up a notch and get a 6.5 foot bed? Do I leave it on most all the time or spend the 30 minutes to take it off in between trips? Do I get one loaded or go bare bones and build my own interior? So many questions. Opinions/thoughts/experience much appreciated.
Here's what the short bed version looks like when it's not popped up:
More info:
http://www.fourwh.com/