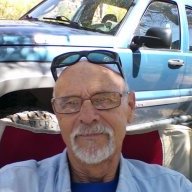 Joined

Sep 17, 2012
Messages

94
DAA said:

...It's a 5.7 liter - a 350. Not a fire breather by any means, with only something like 395 HP and 410 ft/lbs of torque, it feels like pretty weak sauce compared to my last couple of trucks. But, it is what it is...

They have a 6.? also. Thought you may have had that one

.

...It rides so much nicer than my last couple trucks it isn't even funny though.

..

Gonna take it out in the dirt and get it all filthed up good and proper on Sunday

.

- DAA
Dave, and I thought my '06 Overland (Princess) GC had *some* factory bells 'n whistles.
Not even close. My Hemi's spuncky but I don't like the throttle sensitivity. I do like the QD II t/c & LS at both ends (3.73) tho. It ain't no Atlas and Detroit's, but they work respectably well. BFG KM2's help a little more with the traction also.
I also put the same type Bilstein's and air bags, 2"+ lift (spacers). But IFS lacks articulation.
Couldn't find room for OBA so I carry the "air compressor bag".
Sure wish I had a built-in Garmin Nav. system.
Do you have to pry yourself out of the seat when you get out?