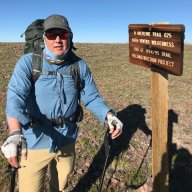 The mountains are calling and I must go
Joined

Mar 31, 2013
Messages

1,024
In 2019 I turn 50 and to commemorate that milestone I'm hiking
the Highline in the Uintas from Leidy to Mirror Lake Highway in 8 days.
I'm looking for some honest, critical comments about my itinerary to
ensure I consider the potential challenges.
Also if you have any thoughts on my selected camp sites, particularly
if any of them are impractical, I'd appreciate it.
My idea was to get 30+ miles in the first 2 days so I could take 0 day, leaving
me about 10 miles a day until the end.
@LarryBoy
I've read your
Trail Guide
many times now. I so desperately want
to do those long ridge walks for the views but I fear I'd be way too slow
doing it that way.
My rough itinerary is as follows:
Friday: Leidy Peak / Hacking Lake --> shelf above Reader Lakes. ~ 15 miles
Saturday: Reader Lakes --> Painter Basin. ~ 17 miles
Sunday: Zero Day. Recover from previous 2 days.
Monday: Painter Basin --> Northstar Lake. ~ 10 miles
Tuesday: Northstar Lake --> Unnamed pond north of Lambert Lake. ~9
Wednesday: Lambert --> Dead Horse Lake. ~ 9 miles
Thursday: Dead Horse --> Brinkley Lake (via Upper Rock Creek trail) ~ 10 miles
Friday: Brinkley --> Hayden Pass Trail Head. ~ 10 miles.