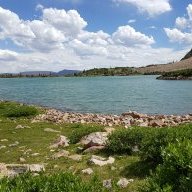 Joined

Aug 8, 2016
Messages

2,071
So I'm starting some initial planning for my brother and I to finish the Highline trail. Got a couple of questions for all you experts out there.
Given our unusually heavy snow pack this year do you think we'll have problems over the high passes if we were to do our trip on the last week of July, first week of August? Also I'm assuming bugs will likely be a real issue this year with all of the standing water that will be around.
Moved the second question to a separate post "Chain Lakes / Lake Atwood Trail to Painters Basin... What's It Like?"
https://backcountrypost.com/threads...painters-basin-whats-it-like.6616/#post-78745
Thoughts?
Last edited: