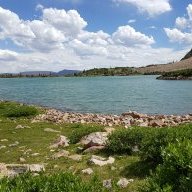 Joined

Aug 8, 2016
Messages

2,071
In 2016 my brother Brent and I embarked on a highly ambitious goal to do the entire length of the Uinta Highline Trail in the Uinta Mountains. Neither of us had done any backpacking in years. It was to be a monumental journey that would begin at the east end of the trail at McKee Draw just outside of the Flaming Gorge National Recreation Area. The plan was to hike for ten days with an exit at the Hayden Pass trail head on the Mirror Lake Highway. Disappointingly we were unable to make the entire journey and took an early exit at Henry's Fork. You can read about it here
https://backcountrypost.com/threads/uinta-highline-trail-east-to-west.6391/
Determined to finish what we had started we began to make plans in early 2017 for another attempt in late August. We had learned much about the challenges of a multiple day trek and had hopefully learned from previous mistakes made. Some of the things we were determined to do were pack lighter, get an earlier start each day and cover more miles. One thing we learned from our first trip that was particularly concerning was how both Brent and I lost our appetites when on the trail for multiple days. We did learn which foods were more "tolerable" than others so we would definitely change our menu in an attempt to do better on this trip. We also learned a lot about ourselves, with newly discovered strengths and weaknesses.
We had fewer available days this year so rather than attempt the entire trail again we decided to basically pick up where we had left off. Last year's exit at Henry's Fork was one option for an entry point. We would be going in on Saturday, August 26th and being on a weekend we were concerned about the traffic on this highly popular trail which provides the shortest access to King's Peak. We also had "been there, done that" so we looked at alternate starting points. We decided we would start at the Uinta River Trail Head, north of Roosevelt, UT.
Our route...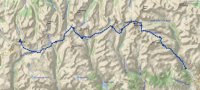 And So it Began...
Day One - Saturday, August 26
It was a four and half hour drive from home to the trail head. Patty and my grandson Bart graciously provided us transportation to the trail head. We arrived at about 8:00am and were soon ready to head out. I managed to squeeze the highlights of the trip on video. It runs just about 33 minutes for your enjoyment.
The Uinta River trail runs north along the eastern side of the river, eventually meeting up with the Highline Trail.
Uinta River...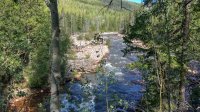 Since we had already been on that section of the Highline we would head up through Atwood basin. A trail sign marks the junction and we headed west across the river.
Sheep Bridge...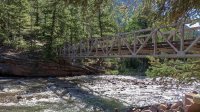 All the maps used to plan our route seemed to disagree on just where the trail went in this area. Most sources showed the trail heading south west then turning north west but Trails Illustrated showed it going north west right off the bat. The latter proved to be correct. It was a pretty significant climb from the river at approximately 8,100 ft to the Chain Lakes area at just over 10,000 ft. We got rained on a couple of times, one of which forced us to put on our rain gear for while.
Entering the Chain Lakes basin at the Krebs Creek crossing at about 10,000 ft...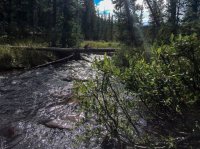 We soon after arrived at Lower Chain Lake, the first of four lakes which make up the "chain".
Lower Chain Lake...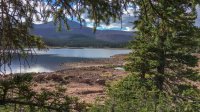 We had originally planned to make camp the first night at Fourth Chain Lake but we were running out of daylight and ended up staying at Middle Chain Lake.
Day Two - Sunday, August 27
Being a bit behind on our schedule we got up just before daybreak and got back on the trail heading toward Upper Chain Lake.
Upper Chain Lake...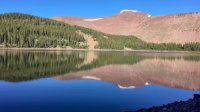 The last of the four lakes, humorously named Fourth Chain Lake, is a bit higher than the previous three. Although it was originally to be our destination for the first day it was probably a good thing we didn't make it there. It was very beautiful but didn't seem to have much to offer in the way of camp sites. We ran into our first of the few individuals we would encounter on our trip. He was a wildlife biologist who had just come down from below Mt Emmons where he had been observing pika and ptarmigan for the Forest Service. What a cool job.
Fourth Chain Lake...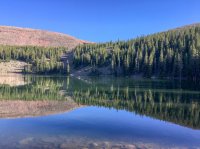 The trail took us around the eastern end of Fourth Chain Lake and soon began a series of steep switch backs topping out on our first major pass, Roberts Pass, 11,020 ft.
Great view of Mt Emmons from Roberts Pass...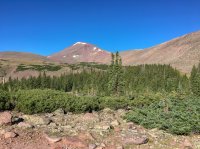 Mt Emmons is the south eastern most peak along the chain of peaks leading north west to Kings Peak.
From Roberts Pass we would began our descent in to the Lake Atwood drainage. Here is were we started to see all the monster mountains and a big beautiful meadow where we crossed Atwood Creek...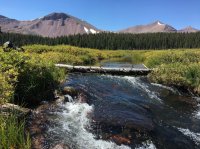 Next up, Lake Atwood...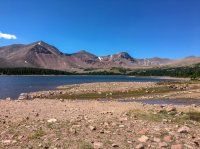 Our last pass of the day would be Trail Rider Pass, at 11,778 ft, which would take us over into Painter Basin.
On Trail Rider Pass looking down on Lake Atwood...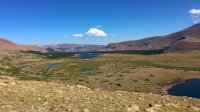 Pretty sure this is Trail Rider Peak, 13,248 ft...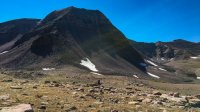 More giants: Painter Peak, 13,386 ft and Second Gemini, 13,312 ft ...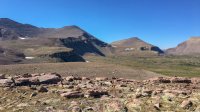 Looking down into Painter Basin, our destination for the evening...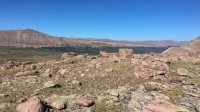 In preparation for tomorrow's activities we wanted to get across Painter Basin to the Highline Trail and find a camp site that would have us well positioned for our ascent of Anderson Pass and, weather permitting, a summit of Kings Peak. Since the Atwood Basin trail wends its way east to meet up with the Highline we decided to go off trail and headed due north to make the hook up. It was not a bad traverse but had to cross several streams and some swampy areas but we were able to negotiate around the more problematic areas. We found an excellent camp site just south of the Highline.
Camp two in the shadow of Kings Peak...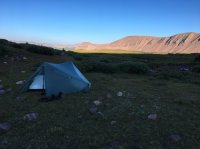 Day Three - Monday, August 28
Today would be the day that I had been looking forward to for many years. Finally getting to summit Kings Peak. We were *so* close on our previous trip but a weather system had come in and it was looking very sketchy so we had to pass. The weather was picture perfect the day before and all indications were that would continue today. We headed out to take on Anderson Pass, the highest pass along the Highline Trail.
Breathtaking view of the Yellowstone River Drainage from Anderson Pass...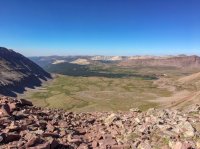 We stashed our packs on the pass. Summit packs on board we began our climb of Kings Peak. The route to the summit follows along the east side of the mountain. There are signs of foot traffic in places, a few random cairns, but mostly its just finding a safe route up through all the rocks. We took the summit in a about 1 3/4 hours. It was an amazing experience. I accomplished something I had wanted to do for many years. The weather could not have been more perfect. Clear skies, a gentle breeze and a mild temperature.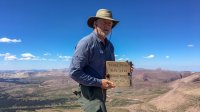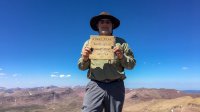 We stayed on top for over an hour. The crazy thing is I had three bars and 3G service on my Verizon iphone. I managed to make a call home to check in and make a quick post on BCP in the Before and After thread. Way cool! It was so nice on top I could have stayed for hours but we had to move on to keep on schedule.
The trip back down to Anderson Pass definitely "challenged" our feet. We both managed to start a blister or two because of the unnatural foot positioning scrambling through all the rocks.
One of my favorite shots of Anderson Pass and Kings Peak from the trail down...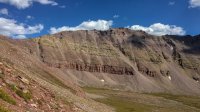 We were going to try to get across the Yellowstone River valley and up over Tungsten Pass to camp at Tungsten Lake. This wouldn't happen as we were pretty beat by the time we crossed the Yellowstone River. We ended up staying just short of the pass.
Camp Three...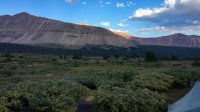 Day Four - Tuesday, August 29
The plan for this day would be to make it over to the Lake Fork River. We headed out and soon came to this often photographed, un-named lake just below Tungsten Pass. This had to be one the most beautiful reflection spots I have seen in the Unitas...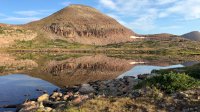 We made our way over Tungsten Pass, along Tungsten and North Star Lakes. We began our climb up Porcupine Pass. Upon arriving at the pass we stopped to look back from where we had come which was impressive enough, but, then to look over to the west side overlooking the basin was the most incredible view. I could have stood there and stared for hours.
View west from Porcupine Pass...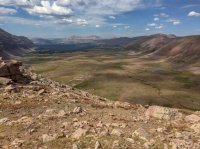 We had to move on as we had a lot of ground to cover. It was a long trek across this expanse. Upon arriving in the Lambert Meadow area we were greeted with some more impressive views...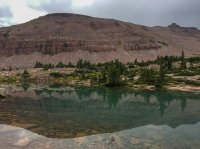 The south face of Mt Lovenia...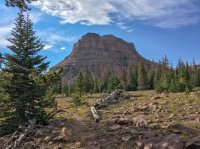 We finally dropped down along the Lake Fork River and found a nice place to camp for the night.
Day Five - Wednesday, August 30
The night brought us the coldest temps of the trip. We had dew on the tent and had frozen over night and it was pretty cold this morning. We were happy to get packed up and back on the trail to get warmed up a bit. Today would take us up the Lake Fork drainage, over Red Knob Pass to Dead Horse Lake. We had a weather system coming in and we were hoping to we would be able to make it over Dead Horse Pass and over to Rock Creek for our last camp of the trip.
The trip up to Red Knob pass was pretty much just a long, slow climb. We ran in to a sheep herder and his flocks. I kind of hated to see this... just love the smell (being facetious). We would see more sheep up above Dead Horse Lake but I guess we have to share with them. Clouds continued to come in to the area so we were beginning to get concerned we wouldn't be able to make it over Dead Horse, but so far so good.
After a stop for a morning snack on the first long switch back below Red Knob Pass we continued on. We were greeted with yet more stunning views.
The majestic Mt Lovenia...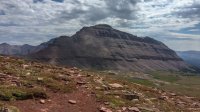 Off in the distance beautiful Dead Horse Lake and scary looking Dead Horse Pass...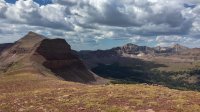 and the incredibly beautiful peaks of the West Fork Blacks Fork behind Red Knob...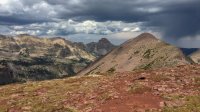 We made our way down from Red Knob Pass heading for Dead Horse Lake. As thunder and bouts of light rain began we were becoming more concerned we wouldn't make it over Dead Horse today. We pressed on and finally arrived at Dead Horse Lake.
Dead Horse Lake below towering cliffs...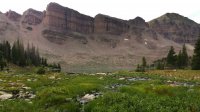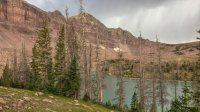 The weather was continuing to deteriorate so we decided to set up a tarp in some trees near the lake to take a rest and see if we could wait out the weather. We continued to hear rumbles of thunder but had not seen any lightning all day. After a time it seemed like it had slowed down a bit and we decided to get back on the trail and head over the pass. We had almost gotten to the bolder field at the base of the mountain when we saw our first lighting strike to the west. We decided to take shelter in the large rocks nearby and see how it went. We waited close to an hour when it looked to have let up so we headed on up.
Dead Horse Pass is an impressive pass no matter how you slice it. From the base you cannot make out where the trail goes but on up it does go. There are a couple spots where there is some exposure and could be a bit sketchy due to the loose gravel most of the way up. Other than that its really not bad but you do have to be careful. Upon making it to the top of the pass the weather came back in with it starting to snow. We took a couple of quick pictures and some video and made haste to get down off the pass.
A last quick look at the grandeur.... and the coming storm...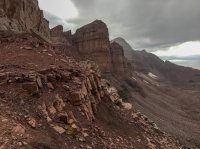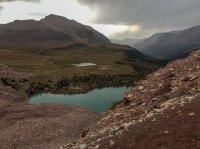 As we made our way down into the Rock Creek drainage the weather would continue to deteriorate. By the time the sun had gone down we were hiking in full rain and had to find a campsite during a short break. We had to settle for an area that we had to share with some grazing cattle. We made camp and quickly got in out of the rain. Tonight's dinner would be a large cup of hot chocolate and a candy bar. I had to get out the alcohol stove to boil the water in the vestibule. I didn't like doing that but I needed *something* warm in my stomach. We hoped that the rain would be over by morning so we didn't have to pack up in the rain.
Day Six - Thursday, August 31
We got lucky and it wasn't raining when we woke for our last day. it would rain on and off throughout the day but it didn't seem too bad as we were heading home today.
We made our way to Rock Creek which was a bit of a challenge to cross. I was determined to find a suitable way to cross without having to wade across. I probably spent way too much time searching for this but finally found a log I could shimmy across. Brent bit the bullet and took off his boots and socks and waded across. We filtered water before we left the river then began to make our way on toward Rocky Sea Pass.
One of the few times the weather was nice to us this day...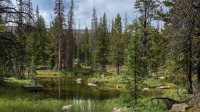 The last grunt up Rocky Sea Pass is pretty strenuous. Its fairly steep and rocky as its name suggests. Just below the pass we were passed by several horsemen coming down with horses loaded to the hilt with gear. I could not believe they would bring horses over that pass. Several of the horses had bloodied legs from stumbling down through the rocks. The riders had to drag them down several areas as they were certainly scared to do so. One of the riders paid what seemed like a compliment by saying "I don't know how you guys do it." referring to our hiking the trail. I replied that I didn't know how the horses did it. He said something like they were too stupid to know any better. In that moment I lost all respect for him.
We finally made it to the top of our last pass of the trip to overlook the Duchesne River Drainage. It felt like coming home in a way as I have been in that area a few times before. It would be all downhill from here except for the roller coaster ride of the Highline as it goes across to the trail head. Weather was continuing to be a factor so we quickly began our descent down to Pigeon Milk Spring where we were finally out of the open and could feel a bit safer.
We were both pretty tired and light was fading fast as we reached Scudder Lake where we were treated to a stunning sunset over the lake...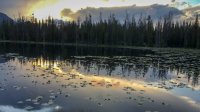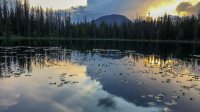 Back on the trail light was growing dim. We would have finish our final leg of the trip using headlamps for light. We finally rolled into the Hayden Pass Trail Head a little after 9pm to find our ride was waiting for us with headlights lighting the way!
We stopped at the truck and I grabbed my InReach to stop tracking for the day. As I reviewed the trip log I felt a profound sense of accomplishment as it indicated we had covered 83.4 miles in six days. With our trip last year starting at eastern end of the trail we had finally done it. Although we hadn't done it in a single trip these two old guys had walked the entire Highline Trail! Sweet personal victory for sure!
What's up next......
Last edited: