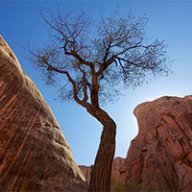 Joined

Aug 9, 2007
Messages

12,815
There's still a bit left in 2017, but most of our trips are now in the rearview. Just like
2016
,
2015
,
2014
,
2013
and 2012's
best of
and
best trips threads
, this thread is for your personal favorite photos and videos of the year. This is not necessarily your best shots, or your most frame-worthy, but the photos, videos and experiences
you
liked the most for whatever reason. Maybe it was an epic trip you'd planned for a long time, or maybe you just really liked it. Be sure to tell us a bit about the photos and include links to trip reports if you posted one!
Here's a few of my favorites to get things started...
Waking up to fresh snow at a backcountry cabin in the Uintas in February was spectacular. Trip report:
https://backcountrypost.com/threads/colton-guard-station.6713/
Floating the Colorado River in Glen Canyon in April was an experience I'll never forget. Trip report:
https://backcountrypost.com/threads/floating-glen-canyon.7185/
Once again we headed out on the boat the first weekend of June and found the solitude, weather and scenery we'd come to expect. Trip report:
https://backcountrypost.com/threads/so-long-barke-diem.7130/
And then the %$&#!* YAMPA happened! Our first year trying to score river permits as a group and
@Dave
pulled the Yampa River in June! The Yampa is one of the toughest permits to win and one of the best whitewater floats in the west. I haven't made my trip report from this, but it doesn't really matter since Dave's is sooooo much better than mine will be. Check it out:
https://backcountrypost.com/threads/six-days-in-dinosaur.6943/
Then back to Glen Canyon in July. This was not a bad place to wake up on my birthday. (Same TR link as above Glen Canyon pic)
And then we spent 6 incredible days floating Desolation Canyon. I was alone on my raft through all of it, and I loved it. Trip report coming this winter...
Now let's see some of yours!