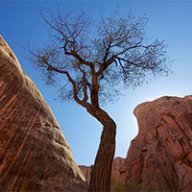 Joined

Aug 9, 2007
Messages

12,939
This crazy year isn't over yet, but for most of us the majority of our camping and exploring is in the books. Just like
2015
,
2014
,
2013
and 2012's
best of
and
best trips threads
, this thread is for your personal favorites of the year. Not necessarily your best shots, or your most frame-worthy, but the photos and experiences
you
like the most for whatever reason. Maybe it was an epic trip you'd planned for a long time, or maybe you just really liked it. Be sure to tell us a bit about the photos and include links to trip reports if you posted one!
Here's a few of my favorites of the year to get things going...
My year started off just like it ought to: camping. This was the sunset on the first day of 2016 from near our campsite out on Alstrom Point. With the New Year falling over a weekend this year, it's going to be hard to keep me from heading out again this year. (
Trip report here
)

I spent a good chunk of my spring camping and doing work hikes. I didn't have company for a lot of it which was good in the sense that the boredom inspired me to get the camera out at night once or twice. (
Trip report here
)
This scene from our packrafting trip in Cataract Canyon will be something I'll never forget. This moment was so exhilarating - racing down Dark Canyon and then hopping on the mighty Colorado in the late evening light in our tiny rafts, totally unsure of what we would find downstream. Yeehaw! (
Trip report here
)
Spring ended on a wet note which made me have to cancel work hike weekends for the whole month of May so I had to go into overdrive to catch up in June. Once again, work led me to hikes that I've avoided due to their popularity, and once again I kicked myself for not going sooner. (
Trip report here
)
We spent a LOT of nights out on the boat this year. It's our third year trying to dial in how to explore Glen Canyon out of a boat, and we got a lot better at it. After last year's epic floods, I am happy to say that I didn't sleep in a tent one night out of 20+ nights in Glen Canyon this year (although we did set one up just in case on some trips). (
One of many trip reports here
)
To further complicate life, I added a whitewater raft to my fleet. I named her Fiftymile and we took her on her maiden voyage down the Colorado River in July. (
Trip report here
)
We went on our last Glen Canyon trip of the year (as of today) in September. One of the best things about this year for me was figuring out better ways of exploring canyons by foot. And even better that that, is sharing it all with people through my
Glen Canyon Rising page
where tens of thousands of people have seen the posts and hopefully have thought more about restoring Glen Canyon than they would have otherwise. (
Trip report here
)
This fall I started work on more work trails, but this time primarily mountain bike routes. That isn't really my favorite thing, but it's been fun and some of the trips have been amazing. Ever since I first hiked up to the Maze Overlook in 2012, I've been wanting to go back and see it with the late evening sun on the Chocolate Drops. And this October I did! (
Trip report here
)
More from me later...