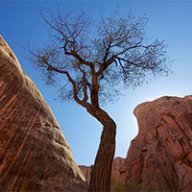 Joined

Aug 9, 2007
Messages

12,934
Looking back, I realize I must have had too much time on my hands in late 2016. As I'm prone to do, I became fixated on the prospect of some new, unusual way to spend my time outdoors. This time I was dreaming of a motorized/oar powered cataraft that could handle everything from river trips down the Grand Canyon to motor trips on Lake Powell. At first I was on the hunt for a true snout rig with 22' long neoprene tubes that are 36" in diameter. They're pretty hard to find as most of them are old military tubes made decades ago. Eventually my obsession focused in on something a bit less extreme, a 20' cataraft made by Jack's Plastic Welding called the Super El Tigre. With 30" tubes it was a monster that could handle huge whitewater and at the same time get around on flat water with a small outboard motor.
I was almost ready to pull the trigger on a set of new tubes when I found a complete used rig to purchase. It wasn't up for sale, but I had contacted the owner to ask him some questions and ended up talking about buying it from him. Unfortunately he was located in Illinois and was heading south for the winter which meant I'd have to wait until March before making the long cross-country drive to pick up the new toy. By the time March rolled around, all sorts of other things had my attention, including selling and buying a home, but I was committed so
@Smokey
and I set off for Chicago just days before closing on our new place for the 38 hour, 2700+ mile round trip drive to pick it up. But as soon as we got it home, we were moving for the first time in 9 years so it would be several more weeks before I could do anything with it, just in time for the annual Glen Canyon Institute Rendezvous.
The GCI Rendezvos is an event that started last year where a bunch of Glen Canyon lovers get together and float the restored Colorado River into Lake Powell and take out at Farley Canyon. It works out particularly well when the water in the reservoir is really low like it has been the last few years. I had attended last year and I'd been talking with the folks at GCI about this new motorized cataraft I'd recently acquired. They didn't have any motor support for the 2017 float if there was an emergency so I offered to fill that role. But with the move I hadn't had any time to test it out first so this would be it's maiden voyage.
This being my first time putting together a cataraft, it took us quite a bit of tinkering in my garage to get it ready to go. Getting the behemoth onto the trailer was another challenge.
We left the Salt Lake area in the late afternoon and camped near Green River the first night. The next day we made our way down to Farley Canyon and met up with the GCI group. Our plan was to launch at Farley Canyon but the crazy dirt road to get to the water was a bit too sketchy to pull my trailer down to. We brainstormed other options and almost bailed on the whole plan in favor of some safe flatwater testing further south on the lake. The only other option was to launch the new boat right onto the Colorado River at Hite where the GCI float would begin. It was flowing at a brisk 25,000+ CFS and we had no idea whether the small motor would get us back to the put-in so this was a
very
risky proposition. Sure, we could float down to the lake, but if we couldn't motor back up, we would be left with two options. 1. Take out at Farley and disassemble the rig to get it out, or 2. motor 35+ miles down the lake to Bullfrog and somehow get a ride to go pickup the truck and trailer from Hite. I didn't even know if we would have enough gas to get to Bullfrog and we had no idea how long it would take this new rig to get there.
We had pretty much decided to abandon the GCI float and go out on our own from Bullfrog when an elderly woman approached us in the parking lot. She told us that her husband was pushing his limits on this float and wanted us to keep a close eye on him and help him if needed. He had some shoulder issues and paddling was hard on him. I couldn't say no to that, so we quickly threw all our stuff in the raft and went for it.
We backed down to the ramp and put in on the Colorado River just in time to see the rest of the group start paddling.
We struggled with technical details to even get the motor deep enough into the water, but soon enough we were drifting down the Colorado River in Glen Canyon. You can see the high water mark clearly here.
We brought way more stuff than we actually needed, but we really felt like we needed to be prepared for anything.
We did some testing with the motor and it seemed like we could make decent progress going upstream, so we motored down to catch up to the GCI float.
That's Gary Wockner from Save The Colorado coming over for a chat on his SUP.
See the driftwood on top of that cliff? We're way below the high water mark of Lake Powell.
I was sure that we would hit slack water well before reaching the mouth of Farley Canyon, but the force of 25,000 CFS kept the current going well into the lake. I suppose that shouldn't surprise me after
my experience in Iceberg Canyon in 2015
.
We stayed with the GCI group all the way to the takeout in Farley, but instead of taking apart the boat and camping with them, we decided to head out onto the lake for a couple of nights.
On our way out of Farley Canyon, we saw an otter come out of the water and run up into the rocks. I've heard reports of them in the San Juan arm of Lake Powell, but this was only the second time I've seen one. The first was near the Rincon last year with
@gnwatts
while
@slc_dan
and
@Artemus
climbed the Rincon. Not a great picture, but you can see him looking back at us here.
We stopped near the mouth of Farley to make some adjustments to the frame of the boat before motoring across a large bay that fisherman call Striper City between White and Trachyte Canyons. In my old pontoon it would have been nothing, but in this new rig the expanse seemed huge, puttering along at about 9 miles per hour in a fragile rubber boat, dodging driftwood and hoping we wouldn't run aground on silt.
Back in 2012 I hiked down Trachyte to the lake and found an awesome campsite so we decided to try to motor up it. But without a depth meter, I was surprised when we ran aground much earlier than I'd expected. As we got the boat turned around, we had some issues and the motor died. Panic set in as I realized we were basically in the middle of nowhere, with no one around to help. That's what we get for not sticking with the GCI group where we would have been enjoying a great meal, free drinks and awesome live music with good people! Somehow in the mess the fuel line had pulled out a bit from the outboard. I plugged it back in and we were motoring back out of the shallows. After that adrenaline rush, we quickly picked a nice little bay to call home for the night.
The northern end of Lake Powell gets a ridiculous amount of driftwood from the Colorado River. We took full advantage and made a large fire, knowing that this beach would be submerged in a week or two with the rising waters.
The next day we motored down lake. The distances felt so much bigger than I'm used to on my pontoon. We pulled into Two Mile Canyon and confirmed our suspicions that there were very few campsite possibilities for our next night. It's pretty much all boulders and Chinle slopes.
We turned around and headed back up canyon, dodging debris and river currents to the mouth of White Canyon where would do a bit more exploring.
After spending some time in White, we couldn't shake the nagging feeling that we didn't really know if we could make it back up the river to the takeout at Hite. The weather was turning so we decided to make a run for it and camp partway up the river the next night.
As we left the mouth of Farley, we tried to stay on our previous track to avoid the silt bars that were recently submerged by the rising lake level. This time we weren't so lucky though. We hit silt and were stopped in our tracks. It's hard to explain how potentially bad this can be out there. If you run aground in 6 inches of chocolate milk Colorado River water, you think you could just hop out and push off. But that's not the case in Lake Powell. There is more than 180 feet of silt there where the river dies, and when water is present, that silt becomes quicksilt. Getting out of the boat could easily mean sinking in 2, 3 maybe 6 feet of silt, instantly. It's truly a life or death situation. The only comforting thing for us was that the lake was going up, so if we got stuck, we could sit there for a few days and eventually become free. No boats will come to save you in that mess. The only other option would be helicopter extraction. It's a really, really bad place to be.
Fortunately, we were able to use the current to swing off the silt bar and swing back into the current. We floated down a bit more, relying mostly on my memory of satellite imagery and the knowledge of how river bends form to find a break into the deeper main current.
The drive up the river was white knuckle trying to keep in the deepest channels to keep from running aground. We were elated to find this nice silt bench campsite about half way back to the take out.
You can't go anywhere near the water on these benches or you will since a couple feet instantly, so the peninsula we parked the boat on worked out well. The cracks in the dried silt were so deep that you could drop something and not retrieve it.
Once again, the driftwood kept us entertained.
The next morning we made it back to the takeout at Hite without incident. Getting the boat back onto the trailer from the water was interesting, but doable. We didn't accomplish much on this trip, but it was a nail biter and one that I will never forget. This entire stretch of river is back under Lake Powell right now, but I hope I can use the words 'Floating Glen Canyon' in another trip report someday.