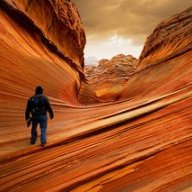 Broadcaster, formerly "ashergrey"
.
Joined

May 5, 2012
Messages

1,698
Late for work on a mid-February morning, filling the car with gas, my phone buzzed in my hand. A new email had just arrived from
recreation.gov
.
Great
, I thought,
another letdown.
My eyes scanned the email, expecting the familiar language.
Another lottery application refusal. Just like Deso, just like San Juan.
This email was just a little different. Instead of beginning with the phrase "We are sorry to inform you…" it opened "Congratulations! You were successful…"
I had to read it twice. Then, fumbling, I tapped out a short message to
@Nick
.
"I pulled for Yampa!"
The gas pump continued to whir as his reply popped up on my screen.
"?!?!?!?!?!?1" Yes, the 1 was part of the actual text. "Dude. Last year 7,447 applications were received for 300 launches in Dino (Lodore and Yampa). This is beyond lucky to pull the first year you try."
Lucky is not usually a word I'd attribute to myself, but in this case, it fit.
The Yampa. Last major free-flowing tributary of the Colorado River system. Turbid. Temperamental. Home to deep meanders and astounding desert geology. Home to real white water.
I've longed to see it from the water ever since
peering into the lower Yampa River canyons from Harper's Corner
. Nick and I had talked about trying for a permit, doubting we'd get a shot for years. Certainly in the meantime, we'd have time to build up more experience and feel truly ready for Warm Springs.
The lottery had different ideas.
In the months leading up to launch we talked a lot about who to invite, how to secure the needed gear, which campsites we should try and snag (during the high-use period sites are assigned by the National Park Service, but boaters can submit requests). Nick, to his credit, went about fine-tuning his ship. He also put out invites to a bunch of friends. When all was said and done we ended up with a delightfully small crew of five. Nick, Alli, @colefeet, Tom and myself. Two rafts, one kayak.
Nick and I both obsessed. We watched the hydrographs and mused about snowpack. The crazy winter had stacked the Green River headwaters and Wasatch with snow. Runoff on the Green was projected to be huge. The Yampa headwaters were closer to average, but still posed a threat of big water. It all came down to timing.
Here again, luck prevailed.
Our launch on June 17th came just as the Yampa runoff was tailing off, with flows sitting around a comfortable 5,500 cubic feet per second. That would mean bigger water below the confluence with the Green, given Flaming Gorge was dumping 8,600 cfs.
Months of preparation came together when our oars first kissed the Yampa and we waved goodbye to Deerlodge Park.
Our first night at Anderson Hole set the tone for the whole trip. Baby bighorns scampered across rocky ledges on the opposite wall of the canyon, kicking loose debris on the ewes grazing below.
The sun dipped toward the horizon as we ate dinner and sat around the campfire.
A pink hue began to enter the air.
I grabbed by camera and scrambled to a high vantage for a better view of the sunset.
Day two. Down the river we went, through our first named rapids of the run.
Teepee gave me a moment of pause, but we slid right through with no problem. Little Joe was a laugh. Big Joe commanded respect but Nick tackled it with ease.
The downside, if you could call it that, of the trip came at Harding Hole. The beach there consists of nothing but rocks. Shade was sparse. The guide from a commercial group camped next door stopped by and gave me serious creep vibes.
Just before sunset, I busted up Bull Canyon to see the view from Wagon Wheel Point.
Day three was a lazy float. Warm Springs loomed but it would have to wait. First came Signature Cave, Mantle Cave and the Grand Overhang.
We ended the day at Laddie Park, looking up at the distant fire tower and marveling at the hordes of Box Elder bugs.
River trips develop their own sort of rhythm. Wake up, eat, break camp, load the boats, float, park, unload the boats, eat, go to bed. Rise and repeat.
By day four Nick and I were musing what a real Grand Canyon trip would feel like, counting the time across the span of a couple of weeks.
At last, we reached Warm Springs.
A group of volunteer "weed warriors" from Friends of the Yampa and the National Park Service were running it as we made our scout.
One of their party nearly lost it in the Maytag hole. Amazingly, the passenger on his cataraft managed to stay on the boat. In this image sequence, you can see the cam strap she was holding come loose. As she rolls back, it appears she'll go right into the water and for a nasty swim.
We caught up to them later and confirmed she came through okay.
The scenery above Warm Springs had been phenomenal. Below it was absolutely mind-blowing.
Our final camp on the Yampa was the last available before it joins the Green: Box Elder 3. We'd heard it was a great spot. Honestly, our sources undersold it. Sitting on a sandy beach, we watched sunlight roll up the cliffs.
A committee of vultures kept watch on us from crags high above, waiting for something (or someone) to eat.
By morning, they'd edged even closer to camp as if expecting carrion. Or at least scraps.
Sorry, we kept a clean camp.
A momma merganser and her flock played pile-on while crossing the current.
On day five we marveled at the contrasting colors of the muddy Yampa and cold, emerald Green as they joined in Echo Park. Clouds of sediment swirled beneath the surface, settling out in huge submerged patches. Then, we rounded Steamboat Rock and said goodbye to the Yampa.
The weather all along had been ideal but a storm threatened as we entered the maw of Whirlpool Canyon. Strong winds lashed the water and ominous clouds cruised by overhead.
In short order they subsided and we returned to sunshine.
We all took a walk along Jones Hole creek on our final layover.
The adventure was sadly coming to an end. We packed up from our last night and departed Whirlpool Canyon, ready for Split Mountain.
A golden eagle wheeled over the cliff edges in Rainbow Park as we rowed lazily through the still water.
A shy moose took a dip, swimming across one of the braided channels as our little fleet cruised along nearby.
Split Mountain went by all too quickly. The rapids were splashy and fun, full of waves and plenty of push with all of the water. We came off the water wishing we could recharge, reload and relaunch for another run.
If my luck holds out, Lodore will be next.
Last edited: