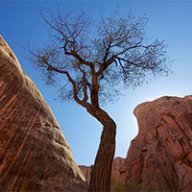 Joined

Aug 9, 2007
Messages

12,923
Thought I'd get a post going on 2013 Uintas Conditions. I was just doing some trip planning and am loving the sat images for the Uintas on Flash Earth. Anyone seen them? Much better res than google earth and they took them at the sweet spot of snow melt. That perfect time of the year where you can pack in some beer and bury it in the snow right next to your nice, dry campsite.
So when will that time of year be
this
year?
http://www.flashearth.com/?lat=40.746075&lon=-110.67655&z=16.2&r=0&src=msl
So if you hear any updates on snow levels and access to the Uintas this spring, post 'em here. Still a bit early but I imagine with the warm up coming it's going to start melting fast. I did my first Uintas backpack last year on May 12th. Just a bit longer than 2 weeks from now, and I'm thinking this year was drier.
http://backcountrypost.com/forum/threads/uintas-north-fork-trail.822/
Current Trial Lake snotel snow depth reading:
http://www.wcc.nrcs.usda.gov/reportGenerator/beta/view/customSingleStationReport/daily/828:ut:SNTL|id=""|name/-7,0/WTEQ::value,WTEQ::delta,SNWD::value,SNWD::delta