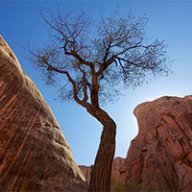 Joined

Aug 9, 2007
Messages

12,938
I've been putting off this trip report for too long now. This is from the trip @
Aldaron
and I took back in January to see if we could track down exactly where the Survivorman Utah/Canyonlands episode had been filmed. As most of you know from
this thread
, what we found was rather depressing for anyone who might consider themselves a fan of Les Stroud and the Survivorman show. While Aldaron decided to
post his evidence
in a very well done, scientific, objective manner, I've decided to just post my usual trip report and say it like I see it. If you want to see screen shot comparisons, check out that other thread, there are many. And then if you really want to be entertained, go re-watch the episode. It's available on iTunes and Amazon Prime. It is in season one and called 'Canyonlands'.
We started the trip out leaving Salt Lake after work on a Friday night. We made it all the way down to Ticaboo Shelf Spring by about 10pm and setup camp. The weather was outstanding. I'd just been camping a couple weeks earlier in the swell and this felt so much warmer. A fine place to go during warm spells in the winter.
We built a fire and walked out to the rim of the canyon and took some night shots.
Ticaboo Shelf Spring is an interesting spot. It's piped into a covered circular building that looks like a yurt from a distance. It was overflowing out the edges with ice and water.
The next morning we woke up and started the hike down into the canyon. This fork of Ticaboo Creek would most accurately be called South South Fork, I guess. There is a nice cattle trail that runs from the spring down to the canyon floor. It's about 500 feet down, but in the Survivorman episode, they like to call that 1500 feet. This pic is where Les stopped and said that filming the way down was just way too hard. It's probably 300 yards down the trail.
I love hiking the desert in the winter.
We debated which way to go once we got to the bottom of the canyon. For some reason I felt up and I got my way. We walked for about 5 minutes before finding Survivorman's campsite.
The little cave he slept in was still full of rocks, sticks and tree bark. Way to LNT it, Les. Sage was not pleased.
In case anyone wondered, this campsite was less than 1.2 miles from the nearest dirt road at the top of the cattle trail. In the episode, Les is supposedly dropped off by a helicopter on the east side of Smith Fork. Then for the first two nights he 'survives' less than 300 yards off of Highway 276 on the north side of Mount Holmes. The distance between his first campsite and this campsite is something like 23+ miles, much of which down a paved highway, the rest on a dirt road. I guess he could have walked all of that before lunch, but I kinda doubt it.
With his campsite located so quickly, we started walking up the canyon to see what else we might find. That's his spot on the right in this shot.
It didn't take long before we found the next shoot scene and this one was even more depressing. In the episode, Les finds a little puddle of water that he says has mouse poop around it. Then later in the episode, he finds a 'seep'. Well it turns out these two puddles were just feet apart and given the fact that the sand was wet and he mentioned recent flooding, there were likely hundreds, if not thousands of little puddles to choose from in this canyon. And mouse poop? Riiiiiiiight...
The 'mouse poop' puddle is bottom center in this photo. The boulder to the left is easy to identify in the episode. The 'seep' puddle is literally 10 feet further up the canyon under the boulder on the left right as the wash bends.
The 'seep'
It had been much drier prior to our visit. The sand was dry and Les' puddles were empty, but Sage still found sufficient drinking water.
We walked further up this beautiful canyon.
Sage.
We walked and walked, nearly to the top of all of the many forks. Beyond the two puddles, it appears Les never went more than 100 yards or so up canyon (and that is being generous). He missed out - it's a pretty canyon.
On the way back, Les' camp was in the shadows. Better for pictures...
One of the sticks Les used to create his 'Pauite deadfalls'
And one of his deadfalls. We didn't find them all, but we found a couple of them. We didn't try very hard though. This one was pretty much in his campsite.
I took this shot to compare to his walking away shot on the last day, but I'm not motivated enough to gather all the screen shots. Trust me though, it's the same shot.
At this point, I feel like blaming Survivorman for everything....
We stopped by a small side canyon between his camp and the cattle trail which turned out to be the spot where he filmed most of his artsy canyon shots. A little further down, we found another one of his deadfalls - specifically the one he allegedly killed a squirrel in. This is about the same comp from the episode:
The deadfall rock.
That deadfall was nearly right at the bottom of the cattle trail. We still needed to find the 'cowboy camp' and his frozen pothole though. No worries, just walk 100 yards. This is the cowboy camp where he found the gallon can. The can was not still there.
And would ya look at that... the pothole was right by the camp, literally right at the bottom of the cattle trail. He said this water wasn't really a good source since it was a 'half hour walk from camp'. This spot is only 1/3 of a mile from his camp. I would think Les could walk faster than .7 miles per hour.
After that we walked down canyon for a while. I found two more scenes that he shot down here but it was just b-roll type footage and not very far down canyon. This shot was in the episode as well as a some little caves on a wall. With the exception of those two shots, all of the scenes from his 4 days in this canyon seem to have all been filmed within 1.2 miles of the trailhead.
We made it back up for some nice late afternoon light. All in all, we spent about 5 hours down there poking around.
Once back up on the mesa, a cold wind started blowing that was making life very uncomfortable. We decided we might have enough light to drive over to Les' first camp location and just knock it out and drive home. I don't mind winter camping, but a strong wind in the winter - no thanks.
This camp was pretty easy to figure out since you can pretty much see it from Google Street View. I had even picked out the exact tree sitting at home on my computer, and I turned out to be right. In the episode, Les sits here and says something like "the crew will have to fly in and clean this up later". Sadly, 9 years later, they have yet to 'fly' in. If budget was a concern, they could always just drive on the highway and walk the 300 yards?
The view of Les' camp tree from the rocks behind. This angle was used a lot in the episode. Pointing the camera the other way would show the highway, so it make sense.
This is the spot where Les gets 'ledged up' and can't make it to the 'flowing water' below. Well as it would be, there is no flowing water in Milk Creek (unless it's in flood stage). But I'll give Les credit here. There reallly was no way down RIGHT HERE.
Yep. We were all 'ledged up'. Until I walked 100 yards up the canyon that is.
Sage walking back up to camp 1.
And this is just a picture of Sage, because I like her.
With light fading fast, we made the long 283 yard trek back to the highway where my truck was waiting. You can see the tip of his camp tree coming over the slickrock dome on the center left.
I know, this was a pretty snarky run down of the trip. It is what it is. I was a big Survivorman fan and it's a huge bummer to see that this is how it goes. Part of me really wants to believe that all of his other episodes are legit, but it's not easy after seeing this all first hand. I'll still watch and enjoy though. He still does some cool stuff and goes to some cool places, even if he really is just an over-glorified Bear Grylls.
I tried multiple times to reach Les Stroud to get a comment on this but never heard back.
Here's a map of these locations for those interested:
[parsehtml]<iframe src="https://mapsengine.google.com/map/u/0/embed?mid=zO3RqOwYLlrM.kWHzEaie1JTM" width="850" height="750"></iframe>[/parsehtml]
https://mapsengine.google.com/map/edit?mid=zO3RqOwYLlrM.kWHzEaie1JTM
And be sure to read through the other discussion threads and Keith's analysis for much more info.
http://backcountrypost.com/forum/threads/survivorman-in-utah.1049/
http://backcountrypost.com/forum/threads/survivorman-utah-episode-discussion.2773/
Featured image for home page: