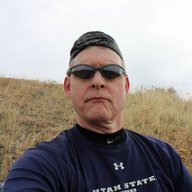 Joined

Dec 23, 2013
Messages

1,269
A little Mount Wire action with the family today. On our way down, along a game trail, we ran into two rattlesnakes that quickly disappeared into a hole between some rocks.
Hey
@Ugly
- Are these the snow fleas like the ones you posted a few days ago? This is the first time I have ever seen or heard of these. They were on the trail heading up.
Another shot of them
About halfway to the top
Grandview peak to the north
Had to climb the beacon
Group shot up top
Hard to make out, but there are two rattlesnakes in this shot. I was bent over taking a picture of some Milkvetch when I heard a familiar sound. It started off slow at first but when I pivoted to my right I could see the first one pretty clearly. Upon further inspection, I realized there were two of them and they began rattling at me pretty good before retreating into the rocks. First time I've seen them in April along the Wasatch Front.
Last edited: