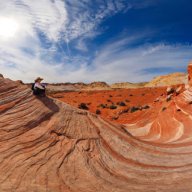 Joined

Aug 18, 2018
Messages

1,550
"You could drive down and see the border"
…., she said. I instantly got a flashback of lots of border crossings in my life. Rarely associated with moments of fun. The days are long gone, where one Border Control agent jokes with the other and says "You can always put a pretty little heart in her passport".
Many days of "come rain or shine" hiking in the desert caused us to make last minute changes during our Arizona road trip.
We drove straight to the
border of US / Mexico,
off our beaten path to the
Organ Pipe Cactus National Monument
.
It's a 4 hour drive west of the
Chiricahua National Monument
or a 4 hour drive southwest of the
The Double Black Hangover
in Sedona.
We saw a stunning amount of US Border Patrol trucks.
We passed and we were questioned at serious and elaborate US Border Patrol checkpoints on our way to, from and far inland from this park. On the Sunday afternoon between Tucson and driving westbound towards Ajo, AZ we saw Border Patrol trucks at every single intersection between the main road and intersecting paved roads, dirt roads, washes and trails. Every tenth car or less was a Border Patrol truck on the move. We saw Rescue Beacons ("panic poles") set up in the wilderness for illegal migrants.
We came to hike and see the
Organ Pipe Cactus, here is a majestic old one with some cool shadows:
We also saw lots of classic southwestern scenes, here a younger Organ Pipe Cactus and some Saguaro :
The hike of the day - On Bull Pasture trail looking back into Estes Canyon. Trailhead is on Ajo Mountain Drive:
I started the trip report with a sentence from a conversation with a Ranger in the Kris Eggle Visitor Center one morning of February 2018.
The park was largely closed for more than a decade after a Ranger Kris Eggle, 28 years old and in line of duty, was shot and killed in 2002 by cartel members, who fled into the US. The park was fully reopened in September of 2014, but I
just
painted a picture showing, why this park and the whole border area felt so different to the both of us
.
Here is the map of Organ Pipe Cactus National Monument:
Back to the suggestion of seeing the border? Hm….., maybe.
We discussed driving the 37 mile "Puerto Blanco Loop"
, starting as a one-way high clearance road through the mountains but ending up as a two-way road and paralleling what for a very long distance? The border between US / Mexico. That border has a unique Vehicle Barrier with Mexico and the road is heavily monitored in various ways by US Border Patrol. The vehicle barrier has stopped off-road vehicle traffic from Mexico and halted the previous destruction of the park, yet allowed water and animals like the protected Sonoran Pronghorn to cross.
After more back and forth she said : " or….
You could drive the very scenic 21 mile "Ajo Mountain Drive", see lots of Organ Pipe cacti on the southern slopes and hike up to "Mt Ajo" Peak?
" Somewhat steep and exposed, beautiful sweeping views. Yeah, lets hike and not just sit in the car all day…!
Entry to the "Ajo Mountain Drive" - Don't you get a feeling of "we need to check out those mountains ?" :
iPhone shot close to the entry of the scenic Ajo Mountain Drive:
Another iPhone shot- with beautiful puffy clouds. Nice day, for now....
Later on we saw that majestic old Organ Pipe- here a shot with Rick, the photographer, so you get a sense of scale:
We really liked the shadows:
Headed towards Mt Ajo, this is just past the Estes Canyon/ Bull Pasture TH
:
It was getting really windy and I gave up on my hat ( that rarely happens ):
Looking back over the valley, Ajo Mountain Drive is just visible above the cholla:
An Organ Pipe Cactus with a dead Saguaro and some somber looking clouds....:
Dead and alive Organ Pipe Cacti and our first view into the windswept valley towards ? (@Scott Chandler - is that Mexico in the distance ?)
Here is a look back, with Rick and Ajo Mountain Drive further down:
Hm....Google Photos went way overboard with color corrections of my iPhone shot, but it did end up looking like a splitting Underwater image of many scuba diving pictures we have of reefs & coral:
Rick turned and looked at our destination:
A little further on Bull Pasture trail looking down to Estes Canyon trail:
Further up:
Our destination somewhere up there...
By now the wind associated with the cold front caused the visibility to decrease and sand/dust blew up over the plains. The clouds were getting darker and darker behind us towards Mt Ajo. This is the v
iew into the plains, very windy. It's also a view down to the Ajo Mountain drive:
Some close up views :
An iPhone close up:
Rick checking out the close up shots (probably). Not a bad day for a hike- if you look towards where we came from:
We then met a group of "peak baggers', who had just been to the peak of Mt Ajo (but they also climbed a peak in Mexico some days earlier).
It was cold, very windy and the visibility was poor on Mt Ajo, they said
. It didn't look good and it was sensible to change plans and stop the ascend. We really didn't start early enough and due to the last minute change in plans, we didn't have enough time to research the hikes in the park and we used time to stop at the ranger station before hiking. We also spent a lot of time stopping and photographing Organ Pipes and other cool stuff along the way. But that was fine with us.
We continued a little, but turned shortly after at Bull Pasture. Here is an iPhone shot of Rick making a panorama (without his tripod) :
We turned around and hiked back via Estes Canyon trail. This is a view much further down:
We saw some nice Agave:
Lots of Cholla, we nicknamed it Cholla Valley:
The sun would come in and out and flash some light on Organ Pipe Cacti and right up behind us, it was getting very gloomy and the clouds were dark. Good day for photos, Rick said....
Bright sky in front of us, headed back towards the car. Close to a wash we saw some flowers in front of an Organ Pipe Cactus:
But is was still dark behind us. Here an iPhone photo :
We returned to the car and continued on Ajo Mountain drive. We made a few more stops, but the wind was howling, so we drove back to the town of Ajo.
On the way back we were questioned at a
US Border Patrol checkpoint.
The next day we thought of returning to the park, but we were 400 miles from Las Vegas, where we had to fly out of. And there was a State Park in Nevada, which we wanted to check out, so again we changed plans and drove 400 miles northbound. This time "on course"
@Rockskipper
. But just north of the town of Ajo, AZ we were sidetracked by 2 fascinating fighter jets practicing, so we had a personal Airshow for half an hour - very cool to watch and hear the sound change from a distant rumble to a close crackling thunder right above us!
Much further North we were surprised, when we encountered yet another US Border Patrol checkpoint!
Seriously.... It was a cold morning, the agent wore dark sunglasses, but we ensured to remove ours and this time he just said, 'Have a nice day'. To the right was a car being searched.
Remember, we never crossed the border of US / Mexico
.
If you are interested in seeing how the bordering sister park in Mexico looks like, then check out
@Scott Chandler
El Pinacate
trip report from Mexico.
So....
@NorthwestWanderer
- are you still getting a passport?
Has anyone else been to Organ Pipe Cactus National Monument? What did you experience?
Last edited: