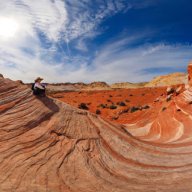 Joined

Aug 18, 2018
Messages

1,550
We dealt with the double black Hangover on February 8, 2018, the day before we headed a "little bit off course" (
@Rockskipper
) to the Chiricahua National Monument. What exactly do you need for the Hangover?
WINTER, MID WEEK DAY, NON-HOLIDAY, STICKY SOLES or perhaps a MTB.
And if you are a photographer and you like
WATER, RED ROCKS, BLUE SKY, UNLIMITED WATER REFLECTIONS
, then you bring a camera or two.
How many people do you meet? 4 or maybe 6. How many bikers? Zero, maybe 1 biker with a dislocated shoulder.
The Hangover hiking trail ( also a ONE-WAY Double Black Diamond MBT trail) wraps around Mitten ridge.
It's a ledgy and steep trail on a lot of slick rock with spectacular views. It's an epic MBT trail, that is so difficult, that you actually rarely meet a biker or another hiker - assuming you pick a midweek, non holiday, winter day.
To get to the Hangover trail, you need to hike up via Munds Wagon Trail along a creek and turn onto Cow Pies trail. In the month of February the creek has flowing water, like we saw in 2017, or it has standing water, like this trip in 2018. We usually 'crawl' with a speed of 1mph up Munds Wagon, because of the many photo opportunities. If the water flows in the creek, then you need to cross the creek about 8 times or so. We have hiked this 8.5 mile loop hike about 5 times over the past few years and the pictures will give away it's location.
I attached links to some epic MBT videos at the end,
if anyone is interested to watch it. Our MBTs collect a lot of dust in our basement, but they all have fun memories of throwing me off ridge trails in the Alps. Now we mostly hike, here are the pictures :
Distant view from Cow Pies of Mitten Ridge with the Hangover trail.
Here is a view from the steep part of the Hangover trail - on the back side of Mitten ridge. White MBT marker on the slick rock.
BEFORE we reached the Hangover trail, we saw all these water reflections on MUNDS WAGON trail:
And here is Rick- the Photographer in action.
Further up on Munds Wagon trail:
View from Cows Pie trail towards Mitten Ridge and the Hangover trail:
And finally the start of the Hangover trail.
Bikers have to enter here, hikers can obviously come from the other side, though it requires from scrambling.
Trail is just to the right of the tree
The saddle, the Hangover trail is a ledge to the right and below the woman with the dog. This is really a lot steeper than it looks.
I didn't like to stand, where Rick is......
Who repairs the Hangover? These fine women and men from the US Forest Service.
And in no time Rick had them lined up and posing!
And Rick got two of their phones and took more pictures, so they had some pictures to share
. And I took a picture of Rick taking pictures.
On the trail, looking back to the saddle (behind the tree)
This is taken right on the Hangover trail looking back, lots of steep slick rock
2017 picture:
A wide Subway looking area- I feel good here!
Remember it's a Mountain Bike trail - watch them pass this piece in the videos.
There is NO ROOM FOR ERROR ON THIS TRAIL. YOU WILL END UP VERY FAR DOWN, IF YOU FALL OFF THIS LEDGE.
Here is the 2017 iPhone picture of Rick at that tree:
And here is the
steep section of the Hangover trail with spectacular views
. First a hard 180 turn.
Views are incredible here (good lunch spot)
, but I doubt the mountain bikers get to see that.... white marker to the left.
We never follow the bike line with white markers exactly-
sometimes you need a different route as a hiker.
Looking back up at the steep section.
Back side of Mitten ridge- or the side facing Munds Wagon trail. Lots of loose rocks and switchbacks on the return,
see second video, it shows the remaining trail better.
We then enjoyed more water reflections on the way back:
And when the water flows- like in February 2017 there are few reflections, but a lot of this:
Hope you enjoyed the photos and the following MTB videos I found on-line.
So.... do we have any MTB'ers on BCP?
First video from Saddle to the steep section and the 180 turn:
Second part of the Hangover trail (from steep section down through the switchbacks)
Last edited: