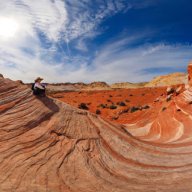 Joined

Aug 18, 2018
Messages

1,257
one of my fears is that I'll be in an exposed spot, my hat blows off, and I'll lunge for it without thinking!!!
Rick did loose his hat and lunged for it- but luckily it was before the Hangover trail! After that he clipped it to his pack. Last week I pulled the binoculars out of my pack and a small lens cover fell out and rolled straight to a cliff edge! He went right after it, as I said "let it go, let it go…." Whew… it happens so fast!
@swmalone
- yah, some have no fear! there's a small number of people capable of riding that trail. We were pretty surprised to see so many yesterday.