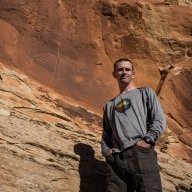 Wildness is a necessity- John Muir
Joined

Jan 4, 2014
Messages

940
Trip Reports

75
Likes

3,593
2.13-15.2017
It's been a good couple months now of wandering in Organ Pipe Cactus National Monument as I work here. It's all been very nice, and I've taken hundreds of pictures, but the adventure level has been small. It was high time to venture out, and my friends Daniel and Whitney visiting instigated a trip. A trip across the border. Did you know Mexico has national parks? Did you know there is one extremely accessible? I knew neither of those until I came to ORPI.
Thus we went south to
El Pinacate y Gran Desierto de Altar
!
After negotiating the beggars of Sonoyta and a while of driving south we passed our turn, U-turned, and approached a closed gate. Uhhhhh... What? Turns out visitation is small enough that the fee collector personally opens the gate! We decided to be adventurous despite the looks the staff cast towards my Mit and got camping permits up the 4x4 road at Cono Rojo. The road wasn't stellar, but I've also taken my car on worse. Really the requirement should be heavy duty tires, the rocks were sketchy. Volcanic.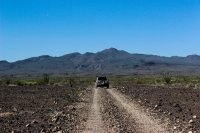 Which brings me to what this park is all about. El Pinacate is the name of a massive shield volcano made of many vents just south of the AZ/MX border. It was active something like 20 million years ago when the area was actively being torn apart by the basin and range province. The local Tohono O'odham people have creation stories based about the place and relied on the tinajas (water catchments) in the lava fields for their pilgrimages to the Sea of Cortez for salt.
After a while of bumping around we reached Cono Rojo. We had made a poor choice, thinking the road wouldn't scare our tires so much, so we decided to stay in camp for the afternoon instead of going back to the main drive and seeing the craters. There are over 400 craters in the area, 12 of which are unique maar craters, caused by magma hitting water under the ground. There is a sizable scenic drive that takes you to a few of the bigger craters. But we chilled and enjoyed an awesome camp nestled in the lava flows.
Cono Rojo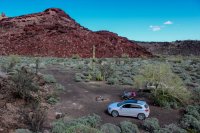 Kino Crater (what we thought was Pico Pinacate) from above camp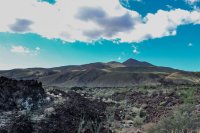 Fire Barrel Cactus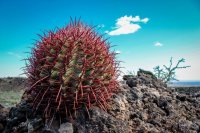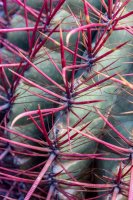 Massive Elephant Trees (put ORPI's to shame)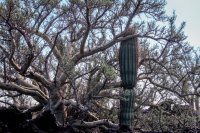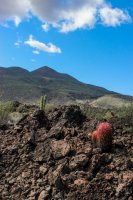 Baja Nightshade- Endemic to the Sea of Cortez area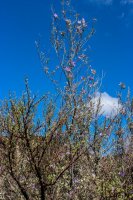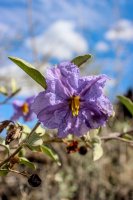 Senita Cactus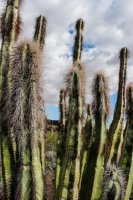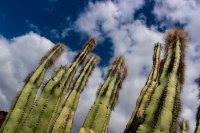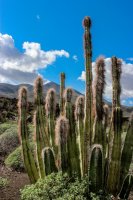 Only a few saguaro here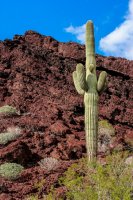 Many Headed Barrel Cactus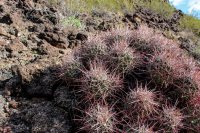 Chuckwalla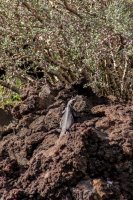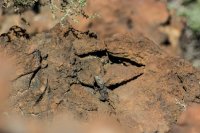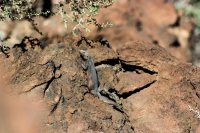 Costa's Hummingbird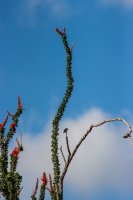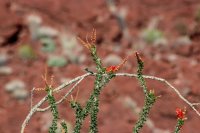 And so many more assorted failing light shots.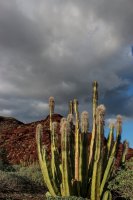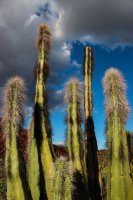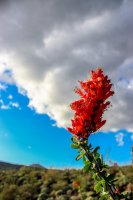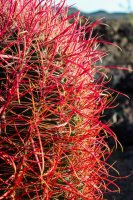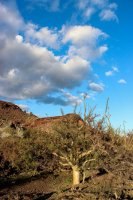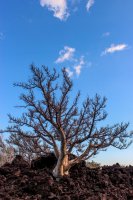 On the next morning we were up early to summit El Pinacate. Just bright enough to see. The resident Great Horned Owl was still hooting us along.

The sunrise was epic. Lots of humidity and broken clouds.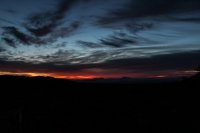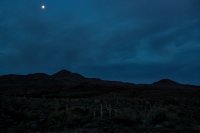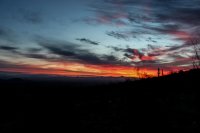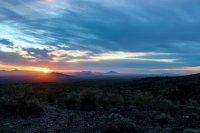 The hike was 24 km round trip, mostly because it wound around the lava flows. I can only guess it would have been awful to cut through them directly. Because of this we doubted the trail's integrity a few times, but eventually it started to climb to out goal, at the end so much so that it was straight up the cinder cone. The views from the top were surreal and we spent a long time gawking and contemplating the world.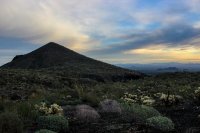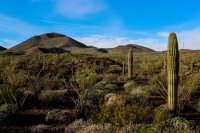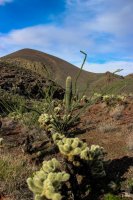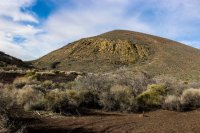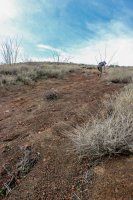 View northeast from the summit- Ajo Mountains (ORPI) in the distance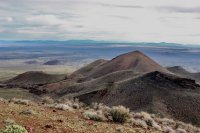 View southeast- lots of craters to the Sierra Blanca and beyond down the Sea of Cortez coast.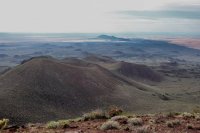 View south- The Gran Desierto de Altar and Sea of Cortez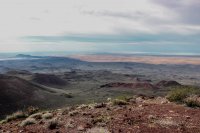 View west- More Gran Desierto and Sea of Cortez


View northwest- Still more Gran Desierto to the United States where them mountains are.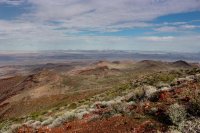 View north- Lots of craters out there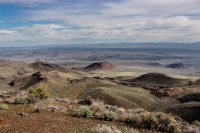 Zoomed in on two maar volcanoes- El Elegante and Cerro Colorado, Agua Dulce Mountains (US) in the distance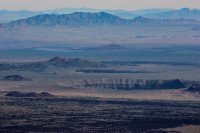 Dunes and the sea. Cool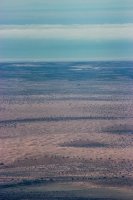 The next day we bumped out of camp and to the south so that we could get closer to that Gran Desierto. It didn't disappoint. The Gran Desierto de Altar is the largest active sand dune expanse in North America at 1.4 million acres. The sand comes from the Colorado River's ancient floodplains. The dunes only reach 600 feet, so Great Sand Dunes has it beat there. But walking out there brought out the inner kid.

The Sierra Blanca Mountains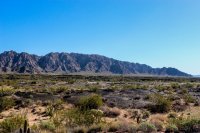 Sand Verbena I think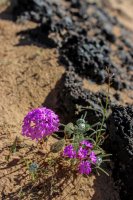 Pahoehoe Lava Flow!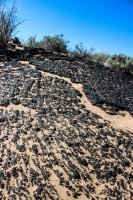 Mmm, desert and mountains, dunes seem biggish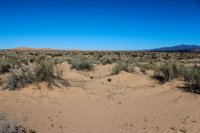 Flat Tailed Horned Lizard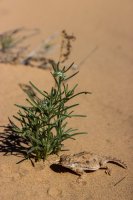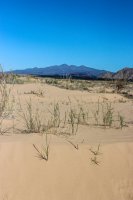 Bigger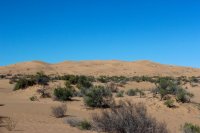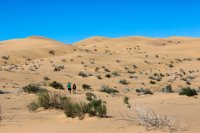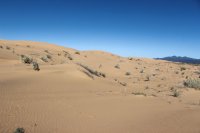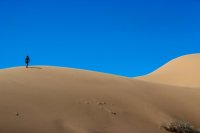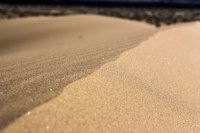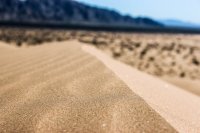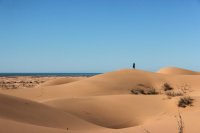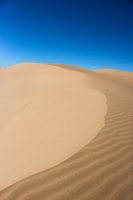 Big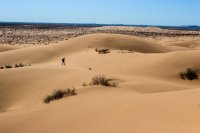 Gran Desierto is a fitting name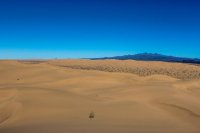 Sea of Cortez over there. Wow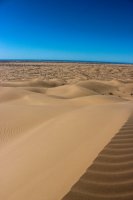 Volcanoes and sand. COOL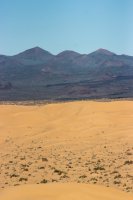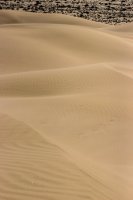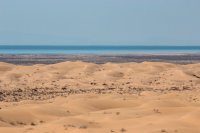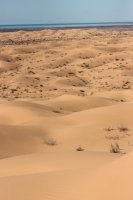 So Mexico has a pretty spectacular place, just right there, across the border. It was enlightening and invigorating. It never ceases to amaze me how many cool places this world has. Here, even though it is the same Sonoran Desert, El Pinacate seems so vastly different from Organ Pipe it is like night and day. I might be in love with it. We'll see. I have to see those craters after all.