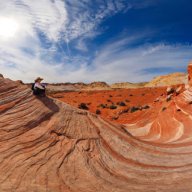 Joined

Aug 18, 2018
Messages

1,518
We just hiked 4 days in
Sedona
after Superbowl 2018. Quiet on trails, incredible spring like conditions, sunny 70-75F, but the week-end was approaching. Rain and very cool weather was also in the forecast, so as much as we wanted to go north to the Arizona strip, we decided to head south and east and a "little bit off course" (a.k.a
@Rockskipper
language
) for about 350 miles to the
Chiricahua National Monument
! Nope, it's not in Mexico, but it's close - it's located in the remote area of the Chiricahua Mountains in southeastern Arizona.
Chiricahua has an extensive amount of rhyolite rock pinnacles and balancing rocks
We spent the night in
Willcox, AZ
and early Saturday morning we drove 45 mins southeast to the remote Chiricahua park entrance. We wanted to hike the "big loop" (Echo Canyon trail, Upper Rhyolite Canyon trail, Sarah Deming trail, Heart of Rocks Loop, Big Balanced Rock trail, Mushroom Rock trail and Ed Riggs trail)- about 8.5 miles up and down hiking with an optional 1 mile more if you hike out and back to Inspiration point:
We stopped at the visitor center to ask about trail conditions and ensure that we didn't need to carry our micro spikes, but as expected, there was no ice/snow in mid February 2018. We drove up to Echo Canyon parking at about 6,800 ft and hiked down on
Echo Canyon trail
. This was our second visit and we learned from the first visit to take it SLOW on Echo Canyon trail. Why? It has some of the coolest pinnacles in the park and the trail takes you right down in between them. It's 1 of the 2 great areas of the park. The other is
Heart of Rocks Loop
, but to see that, you have to hike.
Close to Echo parking
- does this rock shape look like any animal or 2? There is a good amount of rock ducks, camels, hammer, people, kissing rocks, etc on this hike.
Crazy.... looks like it's ready to topple over
Rick inside the Echo Canyon Grotto (Vertorama a.k.a. 'Vertical Panorama', a Navajo guide taught me that cool iPhone feature)
Leaning pinnacles on Echo Canyon trail
Almost down to the bottom of Echo Park.
This looks back out over Echo Canyon.
Almost at the split off to Upper Rhyolite trail. Looking into the valley.
See the 'hazy white horizon over the plains' behind the tree, bottom left? That was sadly the beginning of a wildfire over Cochise Stronghold.
The bottom of Upper Rhyolite trail
- crossing a dry creek. This place can be difficult or impossible to cross at certain times of the year.
On Upper Rhyolite Canyon trail, looking back down (Echo Canyon in the far distance). Almost at 6,000 ft and the split off to the Sarah Deming trail.
It's good work-out up through the Sarah Deming Canyon till you reach the entry to the Heart of Rocks loop at 6,900 ft.
This is almost at the top of the Sarah Deming trail.
Heart of Rocks Loop
.
It's a real awesome loop, full of cool pinnacles and balancing rocks.
I don't remember the exact order of the 'named rocks' but here we go.
Kissing Rocks:
Camel's Head Rock
Duck Rock (picture from February 2017)
Punch and Judy
Pinnacle Balanced Rock
We continued to the Big Balanced Rock on the trail named after it.
The wind was now ripping on the Big Balanced Rock trail looking back at what looked like smoke from a wildfire.
We later found out the
Knob Hill Fire
started around noon on Friday (the day before) in the West Dragoon Mountains, close to
Cochise Stronghold
.
We were at
7,000 ft elevation here, wind ripping and very sad to watch what had unfolded that day.
We skipped the hike out and back trail to
Inspiration point,
we did that in 2017, but it is a gorgeous viewpoint. We descended on the
Mushroom Rock trail
, which was an easy meandering down through a canyon to about 6,400 ft and then we turned right to hike back up (!) on
Ed Riggs trail
towards the car. Here is view looking back out towards the plateau we just came from:
The "Big Loop" is called "big loop' for a reason I remembered, lots of up and down, as my legs were getting tired hiking up Ed Riggs trail to the car parked at 6,800ft. Rick was probably wondering, if he had time to go for a 5-8 mile run in Willcox before it got dark. It's different muscles he says....
But it was about an hour drive from the top of the mountain back to Willcox and a bit somber towards the end with the Knob Hill Fire plume clearly visible.
The next day (Sunday) we returned to Chiricahua to do the easy
Echo Canyon loop
with the
Hailstone trail
, because we had orginally planned to leave Wilcox, head west and hike where....? Yes... the Cochise Stronghold close to the location where the Knob Hill fire started.
A beautiful winter Sunday in Chiricahua
:
And when we left Chiricahua that day the clouds were just amazing. We pulled in along the road back and Rick shot this:
And Friday evening when we first arrived in Willcox, AZ we ate a great meal (at "
BIG TEX Bar-B-Que
") and went out for a sunset at a little lake just outside town. Suddenly hundreds of
Sandhill Cranes
arrived out of nowhere and settled at the lake for the night:
We can't wait to go back!
(
@Scott Chandler
- did you make it to Chiricahua yet?)
Last edited: