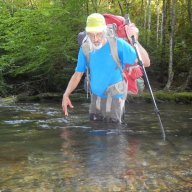 Joined

Aug 25, 2017
Messages

24
Trip Reports

0
Likes

139
My last trip was an 18 day backpacking thing that ended on July 2. Here's a link to the pics---
https://tipiwalter.smugmug.com/Backpack-2018-Trips-188-/18-Days-with-Jimmy-Johnny-and-Billy/
This trip pushes my bag night number up to 80. Here's some pics---
My trip starts out on the North Fork trail where I see my first snake friend, named Jimmy.
Several days later I see Johnny on Fodderstack Ridge as I make my way into Slickrock wilderness in NC.
It's not often you see 22 Mormons out backpacking. This is Crowder Camp on Fodderstack Ridge.
I run into some backpacking buddies on the Big Fat Gap trail and we stop and talk.
I see my third rattlesnake of the trip and his name is William but he goes by Billy.
Once again I'm using my McHale Demo pack with its usual 90+ lb load.
Divine Mother waits for WSP Scott---my favorite pic of the trip. Scott is a member here so he might chime in. Caught this pic on the side of Hangover Mt in NC as Scott climbs up to my camp and passes thru some trailworkers on the trail.
Here is Scott on the Hangover Lead South trail in NC.
I end the 18 day trip on Citico creek and meet some old friends out in the rain.