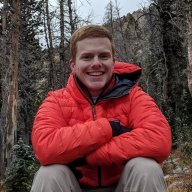 Joined

May 31, 2015
Messages

3,039
I figured someone should get this going, so I took it upon myself, though I'm usually on the lower end of the rankings.
Here's what
@Artemus
had to say about Bag Night Challenges last year:
There are no official rules, but a bag night here is typically defined by a night out camping in some form. It doesn't matter if you sleep on a tarp, in a tent, or in the back of your car. It is more of an attitude thing. If you are outside to enjoy nature, if it's camping, it's a Bag Night."
Whoever spends the most nights in the sleeping bag wins. What do you win? Bragging nights, and having spent a great deal of time outdoors.
So go ahead and post your 2018 bag nights!
EDIT: Nick has an actual prize for whoever gets the most bag nights.
Last edited: