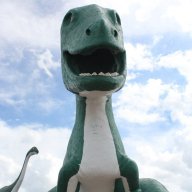 Joined

Oct 27, 2013
Messages

171
Piper - I'm headed across Texas in a few months with time to burn. Aside from captock, palo duro, Guadalupe, and big bend parks, any must-dos or neat little areas in west texas/panhandle/hill countey?
I'm not familiar with west Texas/panhandle area, but if you're coming from Big Bend then Seminole Canyon is a nice stopover. If you can time it right, do one of their guided hikes into the canyon (only way you're allowed in them), but otherwise it has about a half day of hiking along the mesa top trails, taking you along the bluffs along the Rio Grand for a portion of it. There's also a short rock art tour available most days of the week, but it's not the same level of preservation you're accustomed to seeing out west.
Around Austin, the granite batholith at Enchanted Rock is a good half day to full day visit. It's extremely popular and closes when the parking lots reach capacity, so try to visit on a weekday. Pedernales Falls and Colorado Bend State Parks are also good. The most extensive trail system I've found locally was at Hill Country state natural area, you could fill up one or two days there. For lazier days, Blue Hole and Krause Springs are beautiful natural swimming holes.