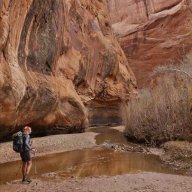 Joined

Jan 4, 2015
Messages

2,420
One word.....WOW! "Kudos" is insufficient compared to your achievement.

Just curious.....Do you ever get lonely on what I imagine are hikes with few-to-no people around? Or, perhaps what are your tips/tricks for warding off loneliness? And what about boredom?
Interesting questions...
1) Boredom - that's one of the reasons I really like these DIY/more obscure adventures. It keeps my brain constantly engaged. I can't just zone out and follow the trail for a while. I'm focused on navigation, water management, and all the mundane bits of day-in, day-out hiking life. Of course, when I do get a long boring roadwalk, I can let my mind wander and it comes up with all sorts of wacky things - little jokes that seem WAY funnier to me than they would to anyone else, song parodies ("I'm an Ida-Dude, with an Ida-tude", to the tune of the Barbie Song), philosophical ruminations, etc. Basically, my brain usually does a great job of keeping itself entertained. I will also pop in a podcast occasionally when I just need to go off in la-la land for a bit. Educational podcasts are my preference, as it feeds the nerdy intellectual side that hiking sometimes starves.
2) I have definitely gotten lonely before, but only when there are other people around. As a cannonical example, I hiked a three-week section of the Hayduke Trail last year, an off-trail route on which I saw basically nobody. The end point was Zion Canyon. I wasn't lonely at all when I saw nobody, but as soon as I got to Zion and saw scads of people, I started to feel it. There were people, but they weren't
my
people. Everybody else is roasting their marshmallows over the fire and doing a really crappy job of observing quiet time and generally just reveling in their relationships, and I'm out here camped behind the dumpsters. But when there's no people around, I generally don't miss them too badly - aside from the obvious desire to see family and friends of course.