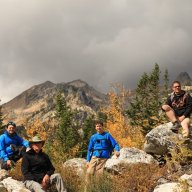 Joined

Aug 21, 2018
Messages

410
And if three bowls aren't enough.

@TractorDoc, we may need to take a container full of this

soup on our trip in August. It will be just the right thing to get us up and over Majo Pass! We can

add it to your load. I hope you've been practicing the counterbalance method this past week.
Do you think we can freeze dry it? If so I'll put it thru the machine.
No counterbalancing this weekend, but I did move several heavy Home Depot shelving units by myself today. Since then I've been basking in the glory of your fabulous evening.
Congratulations on the tent! I see it is a "Tetragon 7." I hear that model if far superior to the Hexagon 6.
The question might be would @TractorDoc smell them back in Ohio
What am I supposed to smell? A circus peanut, or the circus peanut eater?
Check with the sheepherders to see if they have the ability to rescue a plus one after you and Bob. Or maybe just me. That may be a necessity if I was to tag along.