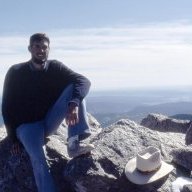 Joined

Feb 1, 2014
Messages

407
I found a couple dead butterflies late this summer - one was a 'Painted Lady' and the other was a 'Monarch' butterfly - and decided to try snowflake photo technique on these to see what I'd get. These were taken using a 4x microscope lens.
This is one of the spots on the Painted Lady wing
This is near where the wing joins the body on the Painted Lady butterfly.
Monarch butterfly wing
One of the spots on the Monarch butterfly wing.
It's interesting how their wings are like a shingled roof. I wonder if there is some kind of aerodynamic advantage in this.