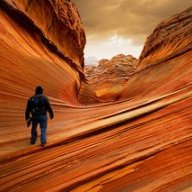 Broadcaster, formerly "ashergrey"
.
Joined

May 5, 2012
Messages

1,722
It's never too early to start thinking of summer.
Today (2/3) I ran up to the foot of the Uintas on the north slope. At about 8500 feet, snow depth ranged from about 4-12 inches. Coverage on the higher slopes appeared decent but not amazing.
This is better than the situation in the Wasatch, but still less than ideal for water supply and fire conditions.
Unless something changes in February and March, we're looking at an early entry to the high country this year.