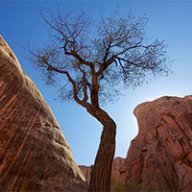 Joined

Aug 9, 2007
Messages

12,826
Driving home from my New Years trip a day early to avoid a big snowstorm. Seems like a good time to revisit this thread and see how we all did!
Camp every month. I've somehow missed this so many years now. Last year I camped on Dec 31 and Feb 1 but missed January! The year before that I missed MAY! -

Missed February!

50+ bag nights. Dialing it back a bit from 70 in 2018, but maybe...

Yep. 64!

Camp for the first time in New Mexico, California, Alaska and Canada

Yes to California, Alaska and Canada.

No to New Mexico.

Visit Yellowstone in the spring

Nope.

A little canyoneering - Not with ropes, so no.
2 weeks rafting the Tatshenshini-Alsek in July Yep!
10 day road trip in August (probably Northern California)

No. Ended up going on a week long Glen Canyon trip instead.

A week long, wife-friendly, raft trip in the spring. Hopefully the full lower San Juan from Sand Island to Clay Hills if I can snag a permit

- Nope, but got lots of other rivers in.

Raft the Colorado through Westwater Canyon

Yes!

Raft the Snake through Alpine Canyon Nope.
At least two good, long backpacking trips. Most likely desert trips. I have a handful on my list, I'd be happy with any of them.

I didn't do any actual; backpacking this year! The closest was a kayak overnight on the San Rafael.

Explore more of the area north of Capitol Reef and west of Muddy Creek

Yep.

More Bears Ears - Only spent one night in the area, but technically yes.
More Gold Butte -

Yep.

Long end of year trip over Christmas and New Year's Eve. Or at the very least NYE.

Yep! And we made it all the way to Mojave Preserve to get a California bag night in.