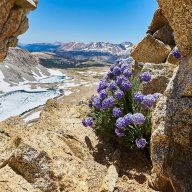 Joined

May 16, 2016
Messages

1,107
Warning, super long, overly detailed trip report with lots of photos (probably too many sunset and flower photos, but I like both)
Trailhead: Inyo NF - Onion Valley (Kearsarge Pass)
7/28 - 8/5/19 (7 nights)
Long introduction/background - skip to first photo if you just want the trip report.
Photo info: I carried a Sony A7II and the 24-105 lens, some photos have a ND6 filter or a CP filter, left everything else at home
Public Service Announcements/Complaints
1) If you are next to a lake, please remember that your voice carries a long distance. It is especially rude to yell and scream with your friends at a place like Kearsarge Lakes when you know that there are a lot of people around.
2) If I step off the trail for you to pass me, it is polite to at least make eye contact, maybe even say something like "thank you" or "happy hiking", but at least acknowledge my courtesy. This goes double if you are playing crappy music though a speaker so everyone around you can hear your poor choice in music
- PSA finished -
Caltopo says 76 miles and +/- 16500'
Day 0 (Lexington KY to Whitney Portal)
Day 1 (Onion Valley to Upper Vidette)
Day 2 (Vidette to Upper Kern area)
Day 3 (Day Hike to Milestone Basin and Lake South America)
Day 4 (Upper Kern Area to Shepherd Pass)
Day 5 (Shepherd Pass to Meadow on north side of Forester Pass)
Day 6 (Forester Pass to Kearsarge Lakes w/ side trip to Center Basin)
Day 7 (Day hike Kearsarge Lakes Basin)
Day 8 (Kearsarge Lakes to Onion Valley)
Last
summer
, I fell in love with the High Sierra. I basically spent the winter dreaming/planning another trip to the area and when I saw trip reports about the Upper Kern area in Sequoia NP, I knew where I was headed. Then the only decision was entry/exit points. I really wanted to avoid dealing with a shuttle, so entry and exit had to be the same place. Coming from the east side, that basically left me with three options (from south to north): 1) Cottonwood Lakes 2) Shepherd Pass or 3) Kearsarge Pass, I had no interest in Whitney. After tracing routes on a map, I realized that Cottonwood Lakes would not be ideal since it would take so many days to get to the Upper Kern and then back again. A little research scared me away from the 6000' climb out of the desert that would be Shepherd Pass. So that left Kearsarge Pass where I started last summer. A little less that ideal since it would involve quite a bit of hiking on the JMT and I really wanted to avoid crowds, but I would get to see a new area and it would give me a couple days in the away from crowds. So 7 nights starting and ending at Kearsarge Pass was the plan, now I just needed to get the permit for a popular entry point.
The permits open up six months ahead of time so I started paying attention in the middle of January to how fast the permits were disappearing for the popular entry points. This was also the time of the government shutdown and I think that ended up affecting how the website was showing available permits. As the day got closer to when my desired entry date would open up, it looked like the permits were not disappearing immediately. In fact, there were usually available permits the next day. It sort of slipped my mind the actual day and I went for a hike and then there was after school stuff and kid's bedtime and I did not get on the computer until about 9pm. And found that all the permits for Kearsarge Pass were gone. I thought for a moment and reserved a permit for Shepherd Pass so I would have something and then went to bed. Woke up in the morning hoping that the website would show available Kearsarge permits, but no such luck. So it looks like it will be Shepherd Pass and a long hot hike the first day.
Over the next couple months I continue to research the area and I get excited for entering via Shepherd Pass because it will allow me more time in the Upper Kern area. But, it also becomes obvious that this was a very big snow year in the Sierra and some of the high passes might still have snow at the beginning of August. This makes me nervous about Shepherd because there is usually a lingering snow field even in light snow years and this is looking like a big one. All through summer I am checking snow levels (along with everyone else who has plans for the High Sierra). As the trip gets closer, I keep looking for information about the snow on Shepherd, but there is not much out there. About a week before I am supposed to leave, I randomly got online to see if people were canceling permits and found that there were about 10 available for Kearsarge (I assume that a group canceled because of snow fears). I immediately reserved a Kearsarge permit because I knew that people had already crossed it without problems. If nothing else, I'll figure something out when I get there.
Travel day arrives and it is time to head to the airport. The whole morning my stomach was bothering me and as I'm driving to the airport, I'm thinking that if this was a local trip, I'd be holding off a day or two. But, plane reservations and car rental and I can't postpone for a day. I had some pizza in the airport for a late lunch that did not sit well and got to Vegas without problems. I hit Home Depot for alcohol for my stove and decided that I wasn't hungry and would see how I felt later. If nothing else, I could find food in Lone Pine before making camp. I ended up skipping food/dinner and driving straight to my reserved campsite at Whitney Portal for the night with the idea of sleeping at 8500' would help with acclimatization. I got there about 9pm, setup my tent and crawled into bed. I woke up around 5:30 and packed up and was driving back down the road by 6 to find breakfast in Lone Pine before the permit place opened.
I got the permit without problems but still wasn't feeling great (breakfast wasn't sitting well). On the way through Lone Pine, I got a couple oatmeal cookies at Alabama Hills Cafe for lunch/snack and headed for Onion Valley and the Kearsarge Pass trail. I started hiking by 9:30 and the day was already getting warm. I was glad to be starting at 9500' instead of ~6000' (Shepherd Pass). I took my time getting to the top of the pass since I was feeling very low energy, not really sick, but not 100 percent.
I've only been to the area once before, but it felt like I was home. I particularly enjoyed the flowers along the way as well as the lakes I had seen the year before.
Mariposa Lily
Columbia or Tiger Lily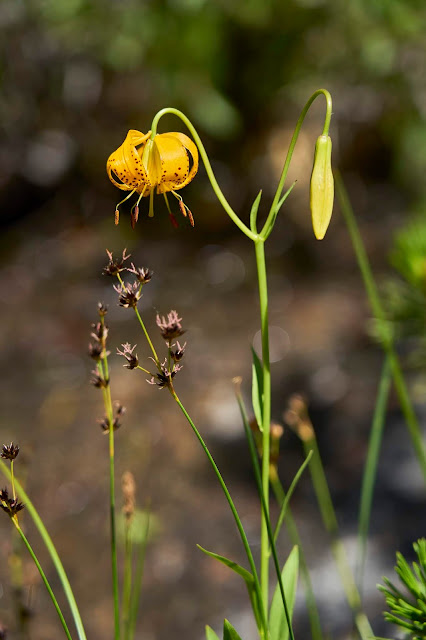 Snack companion about half way to the pass, he kept coming back, getting close each time, hoping I'd drop a crumb or a whole cookie.
Shooting Stars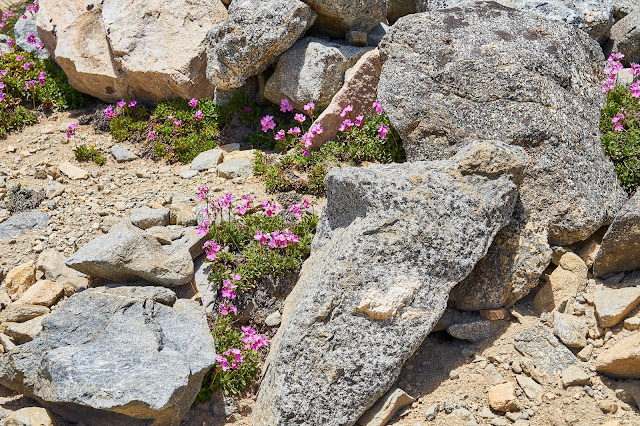 Big Pothole Lake means almost to the top
I made it to the top and enjoyed the view of the other side and the Kearsarge Lakes, I finished off my oatmeal cookie at the pass and I did not want to carry the bag for the rest of the week. I asked a woman if she was heading back down since she just had a daypack and would she mind carrying my little bit of trash. She said no problem and somehow we got talking about the area and maps. It turned out that her husband is a cartographer and has made a map of the Southern Sierra with plans to make more maps of the area. I ordered the Southern Sierra map when I got back home, it covers the area basically from south of Kernville (Lake Isabella) in the south to Lodgepole and Tyndall Creek/JMT in the north. You would probably not use it on the trail for navigation purposes, but it looks to be great for planning purposes or just daydreaming, just looking at it makes me want to do some early season explorations of the Forests and Wildernesses south of SEKI. For ~$10 it is a good deal (no brainer), especially if you live in southern CA. I live in Kentucky so I'm not sure how much use I will get out of it, but I'm still happy to have it. His site is
http://www.calicomaps.com/
Looking west over the Kearsarge Lakes
After my stop at the pass, I headed down to the lakes. There were a couple dayhikers enjoying the day, but there were not many other people around and no bugs either.
After enjoying the view and filtering water, I headed down the trail. After a little bit, I detoured off the trail and through the meadow above Bullfrog Lake.
Shooting Stars and Bullfrog Lake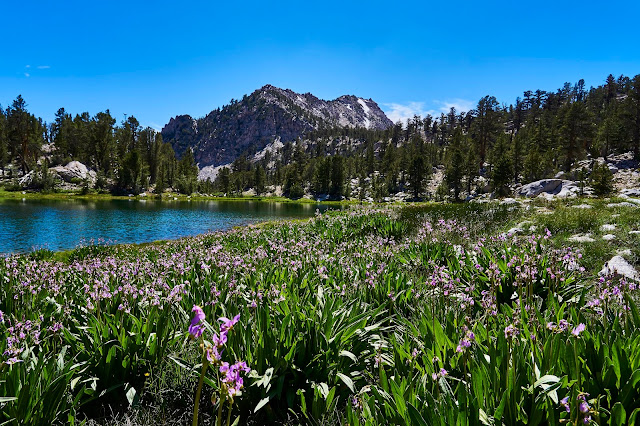 And then intersected with the JMT/PCT and headed south. I ended up camping above Vidette Meadow (right about the 10000' line) with a great view of East Vidette and Bubbs Creek. I watched the light change, talked to a deer for a bit and swatted mosquitos until it was time for bed.
Woke up and headed further up the JMT hoping to get over Forester Pass before the snow got too squishy. Bubbs Creek was still pretty in the morning.
Up above treeline, the view opens up. It was nice hiking before, now you can see everywhere.
My first view of Skypilot (my new favorite flower) somewhere below Forester Pass
Looking at the snow field below Forester Pass, there were a couple stretches like this along with some scree fields where the snow had melted. I was glad to have snow baskets for my poles and micro-spikes. This was probably my least favorite part of the trip, not because it was scary or dangerous (the snow cups would probably prevent someone from sliding very far/fast), but it was just tiring after climbing ~3000'.
On top of Forester Pass, more skypilot with a view to the south
Looking south above the JMT
It was much easier going down vs climbing up and there was only one patch of snow to maneuver around. And then a mile of so of intermittent snow fields to cross that were easy because it was flat.
Near the end of the snow fields there is a great waterfall/cascade coming from the lakes below/next to Diamond Mesa. This was a great spot to take a snack break and try to force a little bit more calories into my protesting stomach.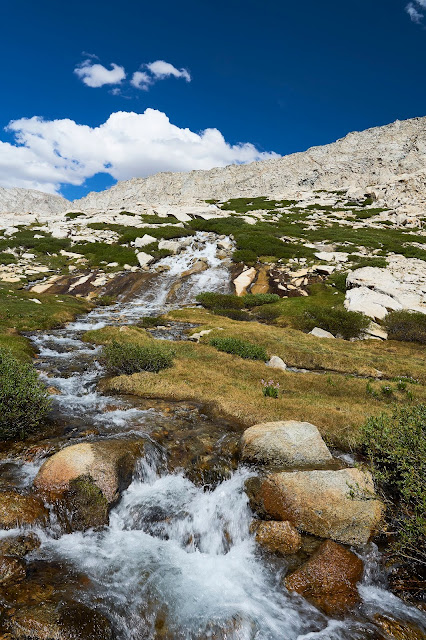 Shooting stars and Diamond cascade
Heading south on the JMT
I turned right (west) at the intersection with the trail to Lake South America and the Upper Kern.
I was aiming to make camp at the end of the trail somewhere near where it intersects with the Kern River, but I was feeling tired and came over a small ridge and saw what appeared to be a great area for camping. And then I saw the horses??? It turned out that the horses were with three guys who were in the middle of a big loop coming up the Kern from the south and then heading back down the JMT. I talked to one guy for a couple minutes and then never saw them again, not solitude, but close.
Looking south from the ridge above my campsite
As it got darker, the mosquitoes got worse. I cooked up dinner, but my stomach was still feeling off, so I only ate half. This annoyed me because now I had to carry the rest around in my bear can for the rest of the trip. I laid in bed for a bit watching the sky turn colors and realized that I could set up my camera right outside the tent and still operate it by unzipping the tent enough to stick my arm through. I set up to get the mountains and sky and alternated between reading and taking photos as it got dark.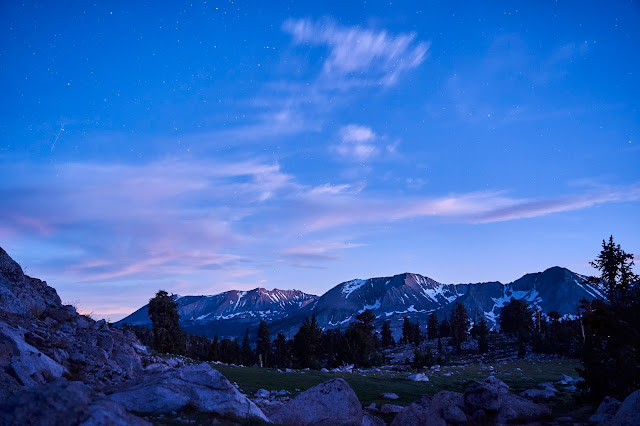 I woke up to another beautiful day, I ate breakfast and loaded up my tiny day pack for a day hike around Milestone Basin and the Upper Kern.
I really like the looks of the Foxtail Pines.
Indian Paintbrush
Looking down the Kern River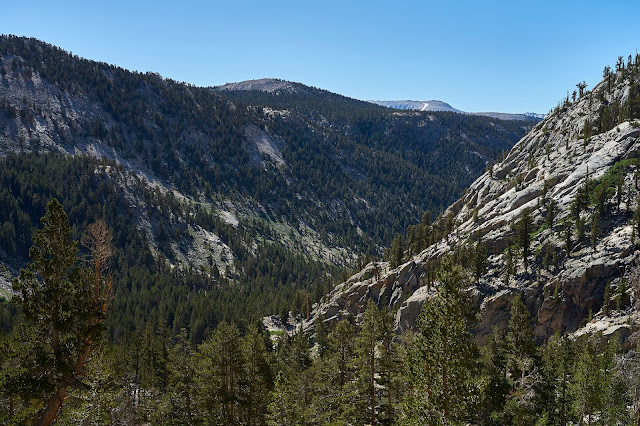 I found the user trail into Milestone Basin and proceeded to mostly follow the creek up into the basin enjoying the views as I went.
Milestone Basin was great, but buggy
Looking east in Milestone Basin
I eventually headed back towards the Kern River and then north on the Lake South America Trail. I poked around a bit, but the bugs were horrible and I ended up hiking with my head net on for quite a bit. The head net made it hard to take photos and the bugs made it hard to take photos, I mostly just moved down the trail.
It was around this point that I had a decision to make. I could turn around and go back the way I came or I could continue towards Lake South America. Since the Lake is what had originally caught my eye in this area, I looked at the map and thought only a couple more miles, easy. Except I had not counted contour lines and did not realize that it was ~1000' higher. Normally, not a big deal, but my stomach was still not feeling great which meant I was feeling a bit of a calorie deficit. It turns out that just following the trail was a bit of work, in places it is super easy, in other places there are a lot of ducks to follow which makes it easy, and in some places there is nothing but guess work.
Looking down on the Upper Kern as I climb towards Lake South America
I eventually made it to Lake South America and discovered that it is not very scenic (I had read this online so I wasn't completely surprised). I was feeling tired at this point and was probably slightly dehydrated, so I did not bother to drop the couple hundred feet to the lake shore and I did not feel inspired to pull my camera out of my pack. So I continued on the trail, heading back to camp. I got to the point where the Lake South America trail drops down the side of the hill and found a very large/steep snow field covering the trail. Off to the side was a steep bunch of talus that looked like it would be doable or I could go all the way back to the Kern and around. I decided to give the talus a try.
This is looking up the talus at the snow field, the actual trail is buried in snow on the far right.
After about 300 - 400' of talus scrambling I got down to the small lake below (11670), then ~2 miles south to the trail and a bit more to my campsite.
I cooked dinner, this time I was able to finish everything, but I was wiped and I crawled into bed and watched the swarms of bugs on the fly of my tent. But first I set my camera to take a series of photos around midnight. I got up to go to the bathroom about the time this photo was taken. The stars were amazing, I just stood there and looked for a moment and then stumbled back to bed.
Another beautiful day. Today I had a decision to make. Originally I planned on spending a couple nights in the area, but the bugs were driving me crazy. I had also given thought to exploring the Wright Lakes and Wallace and Wales Lakes. But I was worried that the bugs would be just as bad. The last thing on my list was Shepherd Pass. I had read that it had really good views and was great for photography. I decided to make it a short day and hike up to the pass and hope that the higher elevation would keep the bugs away.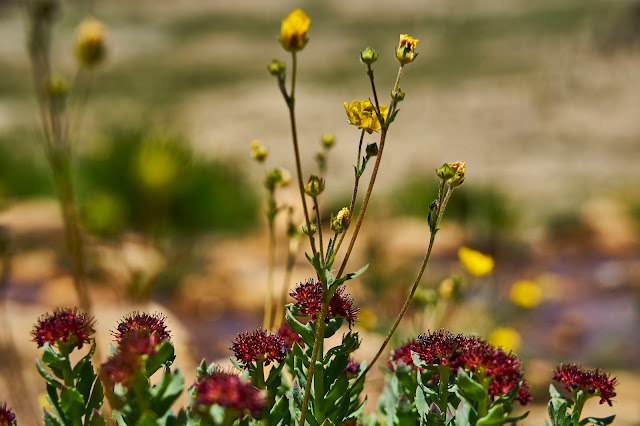 I had a leisurely lunch stop where the JMT crosses Tyndall Creek and then I headed up the trail towards the pass. There is lots of water flowing down the mountain sides and lots of flowers.
As you get higher, it dries out ...
... but there is still water in places ...
and there are still flowers
Somewhere about half way up to the pass, I ran into a solo hiker who had come up Shepherd Pass and was planning on some fishing in the Wright Lakes Basin. We talked for a bit about hiking and fishing (I don't fish) and then wished each other safe travels and went our separate ways. Eventually, I got to the top of the pass. This is looking west as if I climbed up the pass from the east.
It was very windy, so I tucked my tent into a sheltered area. There are tons of rocks, but the area is very popular with peakbaggers climbing Mt Williamson and Mt Tyndall. That is Tyndall on the left, can't see Williamson from here. I had read that there was an easy class 2 climb up Tyndall and that it was basically a walk to the top of Polycrome Peak. But I was feeling tired/lazy and did not want to climb 2000' for Tyndall or even 1000' for Polycrome. So, I wandered around looking at flowers and marmots and I chatted with a couple peakbaggers from the LA area while I waited for the stars.
Columbines tucked under the rocks
Milestone Mountain in the distance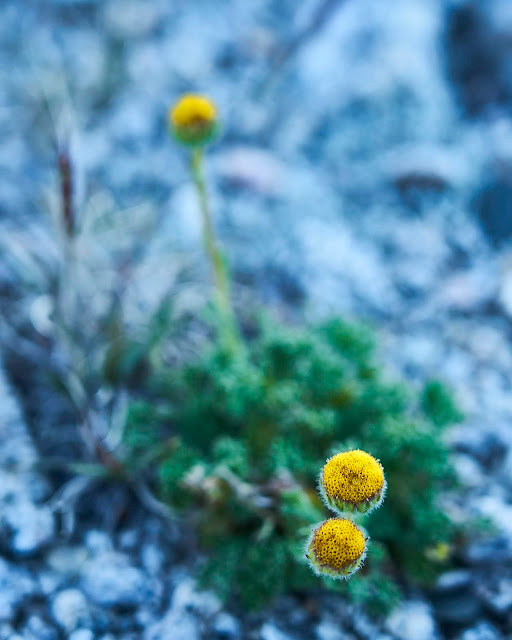 Mt Williamson catching the setting sun
Kaweahs in the distance
Looking east towards the Owens Valley and the White Mountains
Tyndall again
Milky Way and Jupiter (bright star in the middle) and Mt Tyndall
The next morning, I packed and headed down the trail. I had decided that I would cross Forester Pass today and camp at the meadow on the north side of the pass. And then head toward Kearsarge Lakes for two nights since the bugs were not bad there.
Marmot enjoying the sun
Lupine and Milestone Mountain on the left
I got back to the JMT and headed north towards Forester. These guys were heading south and did not even pause as I was taking a couple photos, just walked right through my shot. So I included them in one for scale.
Another marmot enjoying the sun
Looking up towards Forester Pass
As you get to the top, the engineering/construction becomes obvious, it is a very impressive bit of trail construction.
Skypilots again
And then cross the snow fields and talus again and drop almost 2000' to the meadow. There were a number of groups in the area, but it is big enough that I did not feel crowded. I found a great little spot near a lake with views towards Mt Stanford.
I cooked dinner and poked around a bit. This is looking north along Bubbs Creek with Center Peak on the right. There were some bugs here, but nothing bad.
Nice sunset
As it got a little darker, I noticed the crescent moon
And I woke up to another beautiful day, I could learn to love it here
I was poking around at the water's edge when this frog jumped into the water a couple feet from me. And then he just sat on the bottom while I took his picture.
Another frog, he just stayed on the side of the lake as I got close enough for a photo.
Then north on the JMT towards Kearsarge Lakes
The one last possible exploration area was Center Basin. I had sort of looked for the user trail on my way south and was sort of looking as I headed north. When I was in the approximate area I just happened to notice an obvious duck on the side of the trail. I figured I would go a little way and see if the trail died out or if it kept going. After dropping my pack and loading up my day pack I headed up the trail and almost immediately saw this sign. I knew I was on the right trail.
Center Basin is big, that is Center Peak on the right.
I continued up to Golden Bear Lake and enjoyed lunch and then headed back down to the JMT
Frog in Golden Bear Lake
The climb out of Vidette Meadows was steep and hot, but I eventually made it to Kearsarge Lakes. Along the way I realized that it was Saturday not the Sunday I was originally planning on and that it was likely to be crowded. There were a lot of people crowded together along the first, second and edge of third lakes where the user trail goes, but I had found a couple campsites more out of the way and private in my explorations last summer. I set up camp, cooked dinner, swatted mosquitoes and waited for sunset and then stars.
The setting sun lined up perfectly with the edge of the Kearsarge Pinnacles
Sunset through the trees
The sunset seemed to last forever and the moon came out from behind the mountain. You can just make out the crescent moon on the left side.
Wider Pano of the 3rd Kearsarge Lake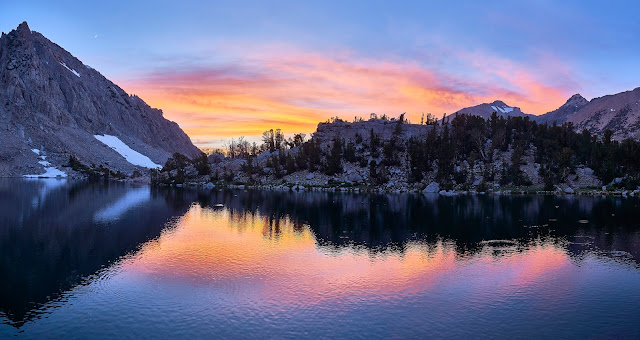 As the sun disappeared, I watched the trout rising for bugs. I wanted to cheer every time I saw or heard a splash because I figured that was one less mosquito. Unfortunately, the fish could not get all the bugs.
Get those bugs
The clouds were looking like they weren't going away and I was getting tired, so time for bed.
I woke up in the middle of the night to water a tree and the sky was crystal clear with stars everywhere. I wished I had set up my camera to automatically take some photos.
Last full day to explore the Kearsarge Basin. First I followed a user trail to the upper lake, knocking down stupid/unnecessary ducks as I went.
Lots of fish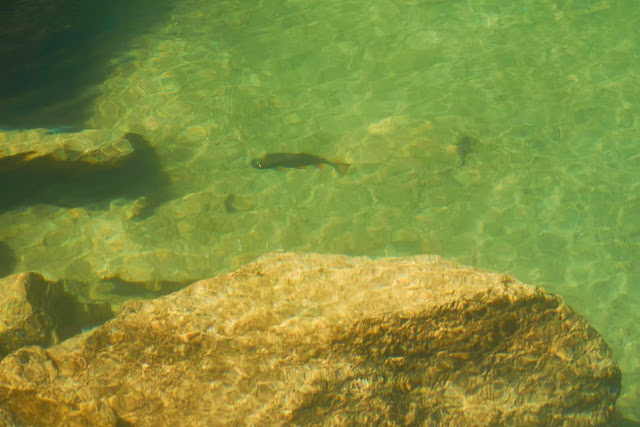 And then headed back to camp ...
... where I enjoyed the view ...
... before heading to the lower lakes and Bullfrog Lake. I decided to avoid the trail and just see where I ended up as I followed the water lower and lower.
Down below the lowest Kearsarge Lake I came across a trail crew's camp. They were set up for the summer and planning on working on the JMT where it drops down to Vidette Meadow. Having just hiked that part in both directions, I think they have a lot of work to do. I thanked them for their efforts and moved on towards Bullfrog Lake.
I wandered around the south side of Bullfrog Lake before heading back towards camp. As I climbed back up through the meadow above Bullfrog, I noticed something weird high up in a tree. As I got closer, I saw that it was a sign of some sort, but too high up to read ...
... on the base of the tree was this sign.
Back to camp for dinner and another sunset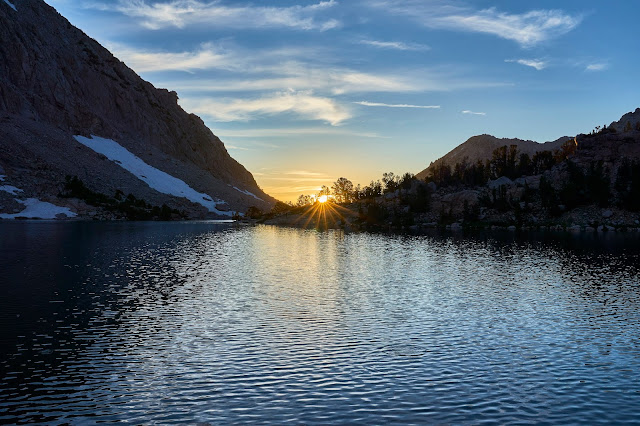 The moon is getting bigger above the Kearsarge Pinnacles.
Last light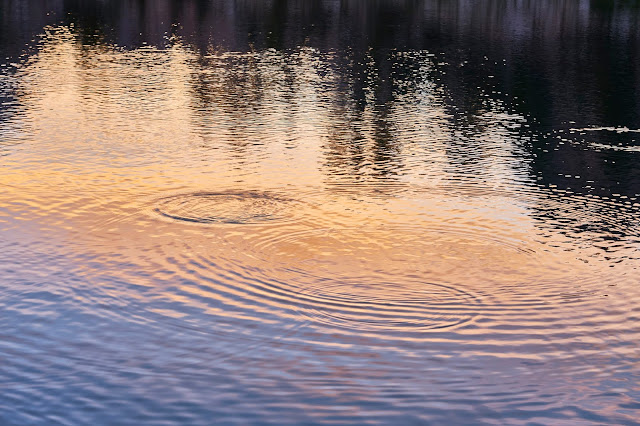 Last morning, time to pack up and head back to the car and civilization, one last look at the Kearsarge Lakes.
And a random butterfly as I got close to the car to close out the photos.
I chatted with a couple different groups of hikers on my way down the trail. As I hiked, I was dreaming about gas station tacos and beer and a shower. At the trailhead, I ended up giving a ride to a couple of mid-60s gentlemen from the LA area. They had started at Whitney 6 or 7 days early and were going to meet their wives in Lone Pine. I dropped them off in Independence to wait for the women and went to find tacos, beer and a shower. I was hoping that it all would be in the same place, but no. Found the taco truck, walked across the street for a tallboy and then back for tacos in the 100 degree heat. Then back a little bit for a shower at the gas station. I don't know if this is a regular thing, but they said they only had cold water. I did not see the point in paying $5 for a cold shower when I knew I could get a real shower at the Whitney Hostel in Lone Pine, so down the road for a shower and then the 4 hour drive to Vegas.
As I got close to Pahrump on the other side of Death Valley I saw the sign for "
The Hub
" (a dive looking place on the side of the road that I had noticed last time through the area). A quick google showed reasonable reviews, so burger and beer before the airport makes sense. The burger was good, the people were interesting and the smoke was overpowering. I had forgotten what a "smoky bar" was like after living in a smoke-free area for 15 years. I'd go back for the burger but they have to get rid of the smoke.
I made it to the car rental and then to the airport, dropped my bag and had a beer while waiting for my red eye flight, landed in Cincinnati around 6am and back home right about 8am. I can't wait to go back.
Summary/lessons learned: I thought that I wanted solitude and I still do. But, I don't mind interacting with people on the trail. In fact, with some people I enjoy it. It is interesting to hear what people are doing/where they are heading. And it is useful to get a little information about things like snow covered passes. It turns out that I don't need/want solitude while hiking, but I really like it once I setup camp. Kearsarge Lakes made this obvious and made me think of Charlotte Lake and Rae Lakes last summer. The crowded/noisy camping is what annoys me, not fellow hikers on something like the JMT. I figure it is a valuable trip if I learn something about myself and on this trip I did.