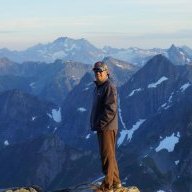 Joined

Feb 10, 2013
Messages

122
Zion has become my favorite national park. Just a couple years ago I had never even been out to southern Utah. Now we have visited it twice in person and, thanks to the internet, including Backcountrypost.com, I can read trip reports, see photos, and watch videos from Zion trips at will, and envy everyone who lives in the area and can visit just about any time they want. The first time we came to Zion it was as a one-day side trip on our way from Las Vegas to GSENM. We hiked up the narrows to Orderville Canyon. It was amazing. Anyway, when planning our next trip to the area over Memorial Day week, 2014, my wife suggested that we do the whole thing from the top down. So on May 28th and 29th, 2014, we did the narrows from the top down, camping at campsite no. 5 in the heart of the canyon.
For the first three miles from the Chamberlain's Ranch trail head, the Virgin River lazily meanders through pasture land. The trail follows a dirt road alongside the river.
After nearly three miles you come to an old dilapidated log cabin. It signals that the dirt road trail is soon to end.
End of the trail. Time to get wet. Not for the last time.
For the next few miles the canyon is wide, but the walls get progressively higher. This is a little arch above the trail.
Then it starts getting narrower.
A couple more miles and you reach the first set of narrows. From here on the canyon is characterized by high walls and periodic narrows.
Just jaw dropping.
About 6 miles in you reach the waterfall. When we were there the water level was down. Usually it pours over the top log in the jam.
Every now and then you have to negotiate through flash flood debris.
Campsite no. 5. Trying to dry out our neoprene socks and shoes.
One of the best parts of the hike was the stillness of the canyon in the early morning.
Big Springs, about five miles from the end. It is a nice spot, but it also means that soon you will be among the crowds.
The canyon south of Big Springs is called Wall Street, for obvious reasons.
The views don't suck.
The water is cold, but you get used to it quickly.
Near the entrance to Orderville Canyon.
The end is in sight.
The view down canyon from Riverside Walk.
I can't wait to get back to Zion again.
Here's a video of the trip I put together:
Featured image for home page: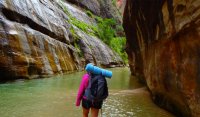 Last edited: