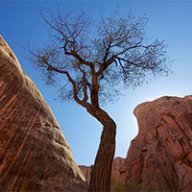 Joined

Aug 9, 2007
Messages

12,927
This is part 3 of 3 from our 4 day backpacking trip via jetboat through The Maze District of Canyonlands National Park. Check out the other parts here:
Part 1:
Spanish Bottom to Water Canyon
Part 2:
Shot Canyon to Pictograph Fork
Once again, here is the map of our route for the entire trip:
[parsehtml]
<iframe src="http://www.mappingsupport.com/p/gmap4.php?q=mymap,214533597045798101523.0004c14d0de1fd28c23be&t=t1" frameborder="0" marginwidth="0" marginheight="0" scrolling="no" width="800" height="800"></iframe><br>
<small>View <a href="http://www.mappingsupport.com/p/gmap4.php?q=mymap,214533597045798101523.0004c14d0de1fd28c23be&t=t1" target="_blank">The Maze Super Loop</a> full sized in a new window.</small><br><br>
[/parsehtml]Unlike my previous two trip reports, this is actually the third and fourth day of our trip rolled into one TR so there might be a few extra pictures to load.
That night below The Maze Overlook was the most calm, peaceful night of the trip so far. That includes the night car camping outside of Moab. It was really, really nice and I slept like a brick. I woke up in the morning and walked over to my little rock chair across the wash and read and drank coffee while everyone slept in.
Soon enough, everyone was up and hungry to hike up to The Maze Overlook. Camping below it only made it worse. So we scrambled up the short trail to where the overlook trail cuts off and starts up the slickrock.
The famous moki steps on the overlook route are encountered right away and don't pose much of a problem, especially going up them.
Around each corner some new obstacle would present itself, some easier than others and others just optional like this one that Tim did.
This was probably the most exposed part of the overlook trail. It involves a climb up to that little ledge you see above Whitney followed by an exposed traverse to the left followed by a climb up a little slot.
Whitney and Yvonne negotiating the ledge.
After that it was just minor obstacles and fun slickrock walking with great views.
Soon enough we were on top of The Maze Overlook.
I walked the road back to see what the campsites looked like. Both are spectacular but I think I would choose #2 over #1. You really can't go wrong though. Either one is on the edge of the cliff overlooking The Maze and The Chocolate Drops.
Group shot on the ledge.
Despite the sunny day it was still a bit cold and breezy out.
Before heading back down, we wanted to see how far out you can get on the Nuts & Bolts Formation, aka Brimhall Point. There's a gap between the second to last nut that is pretty scary.
But Tim leaped it no problem. I wasn't so willing.
Looking back from The Nuts & Bolts
Once we got down below the Nuts & Bolts I saw what an incredible angle we would have of Tim jumping it. He was kind enough to hike back up and jump back and forth a few times for us. Thanks Tim!
neiloro coming down some of the upper moki steps on the route
Stemming over a little slot on the way down. Sweet embroidery on that backpack!
The moki steps were a little trickier in reverse but not bad. Wouldn't want to do this route after dark though.
After we got back down to our packs, it was time to pump some serious water. The plan was to load up on water and hike up to the ridge between Jasper Canyon and The Maze to camp for the night. Along the way, we planned to stop at the Chocolate Drops Sneak Route out of Pictograph Fork and see if we could find the route as a day hike. All a great plan except most of us would now have upwards of 20 pounds of water on our backs!
The sneak route to the Chocolate Drops was easy at first. Just a scramble up a big rocky slope before starting onto some nice ledges.
A cool little arch on one of the ledges
Just as the ledge ran out, the route turned up through some tricky and exposed climbing to the next ledge. It was mostly easy except the move up to the spot between Whitney and Yvonne in the photo below. A tumble here would send you straight down the chute you see to the right of neiloro below.
Another angle of that climb. It wasn't really bad coming up but quite scary coming back down due to the lack of hand holds.
Not far up the next ledge we ran into the next obstacle. Tim was quick to scramble up it but this one gave me some serious pause.
Going up looked okay but I was worried about coming back down and since we were just scouting it, I opted to stop here. If we needed to connect this route as part of a backpacking trip and we had webbing for handlining and lowering packs, I would have gone for it. Tim and neiloro went ahead to check out the rest while Yvonne, Whitney and I hung back and played it safe.
It was this last move that looked the sketchiest.
The view down into Pictrograph Fork while we waited for the guys to return.
Here is the approximate route we took up through the ledges. I only know for sure up to that final ledge. The other guys can correct me if I'm wrong after that point but I think they then went all the way back around on that ledge. This is seen from the wash bottom in picto fork.
After climbing back down, we sat in the shade under a cottonwood for a while to rest. There was a gecko messing with our packs that kept coming back after we arrived. He was a curious little guy and didn't seem to fear us at all. He actually crawled right up next to us at times. I didn't get any pics of him but hopefully
neiloro
will post some. He wasn't the last of the curious geckos we would see on this trip...
But it was time to move on to Jasper Ridge. It was hot, our packs were heavy with water but on we went through the sand.
Stopping in a bit of shade on the climb out.
Love this stack of rocks with it's banister.
A few more ledges after that and we were almost to the top.
Cresting the ridge with Jasper Canyon and much of Canyonlands National Park in the distance. You could see everything up there in that light.
neiloro let me try his 70-200 f2.8 out while we took a break. Anyone know what peak that is in the La Sals? Tuk?
Contemplative? No. Facebooking while we had cel service? Probably.
The hike along the Jasper Ridge is awesome. The nice low angle light made it that much better. We kept hiking until we were about a mile from Chimney Rock before setting up camp. The rules say no camping within a mile of roads if you're on a backpacking permit...
Whitney enjoying dinner as the sunsets next to Elaterite Butte
Not a bad view from camp, eh?
A decent sunset to the west.
For the first time in a while, I decided to shoot some star trails. I'm getting pretty rusty...
We planned to leave early the next day to allow as much time as possible for the 6 mile hike back to Spanish Bottom. We were told to be there by 10:45am and we wanted at least an hour or more ahead of that to celebrate with our reward we had stashed the first day.
We probably would have gotten out of camp sooner but the light up there was wonderful. If I had a longer lens, you might be able to appreciate this view of the Chocolate Drops at sunrise a little more. I'll tell you this though, it was great in person.
We made quick work of the last mile of the Jasper Ridge and the 3.5 mile road walk down to The Dollhouse. From there it was just the 1000 foot drop down to Spanish Bottom. Tim and I practically ran the whole thing and made it from Dollhouse to Spanish Bottom in about 20 minutes.
Why run you might ask? Well we had a little something waiting for us stashed deep in the willows near the river. You'll get a better idea just how well stashed when Tim posts
his video
...
4+ days in a crappy cooler and there was still a bit of ice!!!! WaaahoooooOOOOOO!O!OO!O!O!!@!!! Now that's a hell of a reward after hiking 38 miles in and out of canyon after canyon in extreme temperatures and hurricane winds!
Three out of the five of us weren't nearly as thirsty as Tim and I. A bad combination when you're about to step onto a jetboat for 2 hours.
The jetboat arrives at Spanish Bottom
Sadly, there was a group of 12 college students camped out at our spot at Spanish Bottom. They were plenty nice but dashed our dreams of sitting under the big cottonwood with our cooler full of PBR and taking a dip in the Colorado. But at least they were on the same boat back and made it so we didn't have to stop and pick up a bunch of other people along the way.
About 5 minutes after leaving Spanish Bottom, I realized the flaw in our master plan. Lots of good cold beer = full bladder. Full bladder + long jetboat ride = PAAAAAIIIINNNN!!!!
At the beginning of each trip, the jetboat guys tell you that they can stop at Lathrop Bottom, about half way back if anyone really, really needs to pee. But at the same time, they make a point to let you know that if you're that person, you suck because everyone else could be home drinking beer sooner if you could just be a big boy and hold that in. Yeah, well... sorry everyone. I was about ready to piss myself about an hour before we even got to Lathrop. That last hour? Ohhhh myyyy....

But finally we made the stop, we were relieved and the rest of the ride was okay. Much colder than the ride down though. One thing we learned about the trip. If you don't mind leaving your vehicle at Potash, do that instead of leaving it at Tex's. That way, when you're done, you don't have to wait for them to load up the boat and shuttle you all the way back to Moab. You just hop in your car and go. Kinda upset with Tex's for not letting us know that was a possibility ahead of time. They did say that they store your car at their place for security but so long as you're not leaving a bunch of valuables at Potash, I'd much rather leave it there. Aside from that and the hour late departure from Potash, they were tip top. Great way to get into The Maze. I'll be back!
EDIT: See gnwatt's comment below about leaving your car at Potash. Not recommended.
Check out the other trip reports from this trip below:
Part 1:
Spanish Bottom to Water Canyon
Part 2:
Shot Canyon to Pictograph Fork
Featured image for home page: