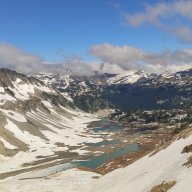 Joined

Jan 11, 2023
Messages

13
First of all, forgive my level of English. I am from the south of Spain and my written English is not very good. I understand it when I read but have to use google translate many times when I have to write it.

On the other hand, allow me to introduce myself. My name is Alejandro, I am 44 years old and I live, as I have said, in the south of Spain. Here backpacking, as you understand it, is very different because it is practically forbidden to put the tent anywhere that is not a Campground. For me this is very frustrating, I want to put my tent in the wilderness or if I must do it in a camp in something which looks wild as your backcountry camps. Also I love the landscapes and the wildlife that you could find when you're hiking or backpacking in Northern United States or Canada.

Because of those things, I decided that every summer I would go a couple weeks to North America to do some hiking and backpacking routes.

Last summer I went with my nephew to the Cascade Range and we had a great time. We went too early (July 15th) and had to make some changes to our plans because of snow was huge in many places.

The following summer we will go to Canadian Rockies: Kananaskis, Banff and Yoho, but a week later (our start dates will always be around July 22)

And now I'm planning a trip for the summer of 2024. Yes, too early, but I really enjoy making plans. I'm thinking in two options: the first one is Glacier National Park and more or less the plan is closed. Different hikes and one backpacking route of 4 days and 3 nights. The landscapes is just incredible but it's so crowded that I think in another option looking for some solitude: Yellowstone with Beartooths. The idea would be different: a 5 days – 4 nights backpacking trip in Yellowstone, 2 days sightseeing in the park (I already know the National Park because I was there with my wife in 2013 but my nephew would go for first time) and then a 4 days – 3 nights backcountry trip in the Beartooths. And in these two backcountry trips I have doubts about whether they can be done or which is better, because in Yellowstone I have thought in two trips.

Option A in Yellowstone for a 5 days – 4 night backcountry trip (65 miles)

Day 1: Lamar River trailhead – Miller Creek. Camp in Appaloosa Meadows (10.5 miles) This day we will drive from Billings, so it will be a not early start.

Day 2: Appaloosa Meadows to Hoodoo Basin. Camp in 3M7. (13,5 miles)

Day 3: Here is my doubt if it is possible. From the camp, following the boundary until reach East Fork Red Creek Trail. I saw in an old Joey's video that following the boundary looks pretty easy but he descended via Little Lamar River, not far from the Trail. I don't know why he did it, if it was a very exposed descend to reach Red Creek Trail. Then we will take west fork red creek Trail and camp anywhere. (Maybe 18-20 miles)

Day 4: From where we camp – Frost Lake Trail – Lamar River Trail – Camp in Warm Spring Meadow or a nearest camp if you suggest another one (12 -14 miles)

Day 5: Go out (13.5 miles)

Option B in Yellowstone for a 5 days – 4 night backcountry trip. I don't know the mileage but this trip is more doable.

Day 1: Lamar RIver Trailhead – Opal Creek – Try to get 3M1 camp

Day 2: Off Trail. Mirror Plateau – visit Mirror Lake – Camp Wapiti Lake

Day 3: In the morning visit Hot Spring Basin and then Pelican Creek or Astrigent Creek Trails (I don't know which is more beautiful) Myst Creek Trail. Camp in Myst Creek Pass or Meadows (suggestions)

Day 4: Myst Creek Trail – Lamar River. Camp in Warm Spring Meadow

Day 5: Go out.

I think the option B is easiest but I would know if someone do the option A.

Then in the Beartooths I have thought in this 4 day – 3 nights trip (all the suggestions and thoughts would be awesowe)

Day 1: Leave the rental car in Clarks Fork Picnic Area. Hitchhike to Island Lake and from there go to Crystal Lake. I don't know if it is very ambitious. I know there is a path until Albino Lake, then is route finding. (10 or 11 miles)

Day 2: Off Trail. Crystal Lake – Alp Lake – Erratic Lake – Robble Lake – Till and Gravel Lake – Big Butte Lake – Desolation Lake – Z Lake where we Will camp. (7 miles)

Day 3: Off trail: Z lake – Lake of the winds – Gallery Lake – Unnamed Lake – Fossil Lake (4 miles) Then on trail we will camp in Dewey Lake but we hike to Impasse Falls and back (5 miles)

Day 4: Go out via The Beaten Path to Clarks Fork. 13 miles.

If we find a difficult navigation we will go out from Crystal Lake to Green Lake and the follow the Trail via Elaine – Jorden – Otter and Mariane Lake to reach the beaten path.

And that's it. Any suggestions, recomendations will be appreciated.