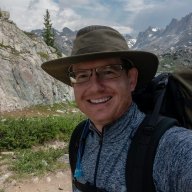 Joined

Apr 8, 2015
Messages

781
In an effort to continue my posting reports of old trips, here's one from my first backpacking trip to the Beartooths, which happened to be my second backpacking trip.
I'd been in the Beartooths a couple times before, after we discovered them "accidentally" on a family vacation many years ago. We had family up in MT, and after visiting wanted to swing down through to Yellowstone. Instead of going through Gardiner, we decided to take this "Highway 212" through to the Northeast entrance. Of course we were floored by what we saw, and took a couple more trips as a family just to spend time in that area. Because of that history, I was pretty keen on getting some time in the backcountry there and getting away from the road--my family isn't much into hiking, so we never did venture into the mountains very far.
This trip was taken in, I believe, July, in 2008. There were 2 of us on this hike. This was my first real introduction to off-trail hiking. A short digression on "off trail..." I grew up in the country, and spent oodles of time hiking through fields, pastures, and timber, never paying much attention to trails or roads unless they helped me get to wherever I wanted to go faster (or if I was too lazy to bust through thick brush--a habit I still have). The idea that I have to hike on trails all the time has never really occurred to me, and meeting people who were nervous to go off trail (some not wanting anything to do with it) has been kind of perplexing to me. Trails are good "highways" to get me to cool spots, but to me aren't really necessary, and really, most of the truly good spots are off the trails anyway--you just have to have to leave the "security" of the trail behind. And besides, the few times I have gotten truly off track was on poorly marked trails. I rarely, if ever, get turned around when off-trail, because I'm paying much more attention to where I am, and also because I don't have to follow a trail that may go way out of the most direct way to get where I'm going. So, even though this was only my second backpacking trip, and was going to be in challenging "off trail" terrain, I was not nervous at all. Maybe nervous about places that wouldn't go (Google Earth was just starting to get useful in 2008, you kind of had to extrapolate from the imagery to figure out what kind of terrain you were looking at sometimes).
We started and ended at the Beartooth Lake trailhead, and planned for 7 days (though we ended up doing only 6).
Camp was made in the vicinity of Flake Lake on the first night, in this perfect little stand of trees.
Day 2 would be the big day of the trip. We hiked up from Flake Lake, off trail, and gained the large, high ridge just SW of Glacier Lake (It eventually becomes Spirit Mountain). We headed up the "nose" of the ridge between Wall and Heart Lakes.
I still hadn't figured out how to really get in good shape for high mountain backpacking, so my pace was quite slow, especially on the climb. We really didn't give ourselves much time to acclimate either. Fortunately I was young and tough.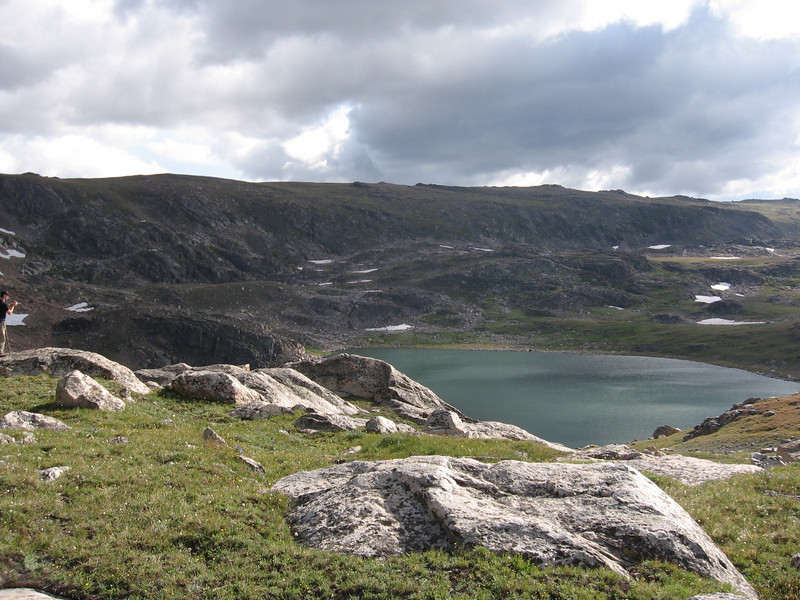 After reaching the top of the ridge, we spent some time admiring the view of Granite Lake and the peaks behind it. The drop-off down to the lake here is very impressive.
The hike along this high, rolling plateau is still one of the personal highlights of my backpacking career. It's an amazing place. It firmly established my love of high alpine plateaus/ridges/pastures. And the views were just otherworldly.
As we continued along, weather began to threaten a bit. We had half jokingly dubbed the plateau "Lightning Ridge" while planning the trip. I was tired, it was getting later in the day, and with the gloomy clouds, was really ready to start going down. Our goal for camp that night was Jasper Lake. We had a lot of downclimbing to do, on some of what we expected to be the most sketchy stuff of the trip.
We came down from basically straight above the waterfall in this picture. It was rough and definitely sketchy--very steep scree most of the way. I ended up tweaking my left knee on this downclimb, which would bother me on the whole of this backpacking trip, and which sometimes still bothers me if I'm not careful.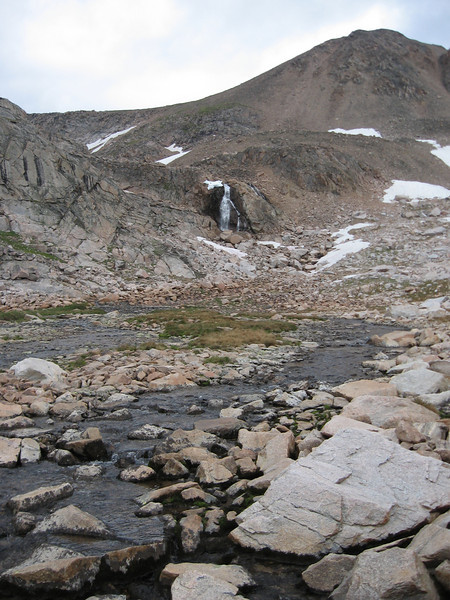 We made camp at Jasper. I think at this stage of my backpacking, I only slept through nights due to sheer exhaustion, not because of a comfortable sleep system. The night at Jasper was brutally cold, and it did snow overnight a little bit. I was still using a crappy 40deg bag and very meh thermarest pad. The morning of day 2 was very rough on me, and the only thing that warmed me up at all was to start hiking.
Our route this day would take us to Castle Lake via Maryott/Donelson and Crystal Lakes.
Off-trail rockhopping in the Triskele Lake area
At Maryott Lake. This is classic high Beartooth off-trail wandering.
I've seen reports where people take a more roundabout way to get down to Crystal Lake. We didn't do that. We went straight down the large bluff between Maryott and Crystal. Amazingly, even back then there was a use trail going down that section. We had no idea it was there until we found it.
The weather was actually fairly pleasant around Crystal Lake. It's a great spot. There were beautiful carpets of flowers everywhere.
There was frost on everything again on the morning of the fourth day. The most depressing part of waking up cold this day was that we had to cross Sierra Creek first thing in the morning--we were headed to Jorden Lake via Till/Gravel and Big Butte. There was no way to avoid wet feet on this crossing.
Robble Lake
An eerily still Gravel Lake
Big Butte Lake
We made Jorden Lake with plenty of time to spare. The benefit, time to relax and fish. The downside, was the bugs were numerous and belligernt. There were these cool twin waterfalls visible from camp, though.
The next day was not outstanding far as scenery goes. In fact, to me, the rest of the hike was a bit of a let-down. We stayed lower, below treeline, on the way back toward Beartooth Lake. Day 5 was an on trail/off trail meander from Jorden Lake to Spogen Lake.
Green Lake
We made camp near the waterfall flowing into Spogen Lake. We took turns fishing from the waterfall. This chain of lakes is filled with "fish stick" brookies. They are incredibly numerous and stunted because of overpopulation.
The decision was made that night to hike all the way out the next day. The mileage wasn't too bad, my knee was bothering me, and the scenery on the trail back to the trailhead just wasn't looking to be good enough to keep us out in the backcountry for another day. I also really wanted a warm bed pretty badly at this point!
Somewhere along the trail on day 6. Some of the views on this last day were surprisingly good.
Just past Native Lake, we realized we were following a trail down the Western side of the Beartooth Butte... exactly NOT where we wanted to go. So, we did what was most logical and struck out off trail to go around the Northern end of the butte and pick up the proper trail. This would prove to be some of the hardest hiking of the trip. It doesn't look bad, but the butte is all clay, and at the time of year we were there, it was all super soggy. It was 2 steps forward, 1 back, through sticky muck for about half a mile. It was exhausting, but we did eventually get through it and back to the trail we wanted.
Just one last look toward the good stuff before dropping back down into the trees and working our way back to the trailhead.
Good trip overall, very challenging in many ways, but also a great learning experience. Learned a ton about the insufficiency of some of my gear, and a lot about off trail high country navigation. My original subtitle to this trip was "How I Learned To Quit Worrying And Love Boulder Fields." High country off trail hiking in the Beartooths still rivals anywhere else I've been so far for challenging yet fun and beautiful off trail hiking.
Thanks for looking!