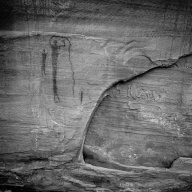 Joined

Jan 20, 2012
Messages

108
Was lucky enough to take a casual jaunt down into Paria Canyon from the Whitehouse Trailhead. Have done this trip in a variety of ways over the years and its hard to beat the simplicity of leaving from Whitehouse. Further, the canyon below the confluence (all the way to where it opens up before ending at Lee's Ferry) is seldom traveled as it seems all the rage to do the loop from Buckskin. This has the added benefit of few crowds (mostly day hikers) below the confluence of the Paria and Buckskin.
The hike begins with low hills and a braided river channel and gets more dramatic as you head down canyon
I had the unfortunate experience of finding hwy 89 closed where it splits with 89a and had to make a 120 mile detour. Meaning we didn't get on the trail until almost 4. Luckily there are an abundance of nice camps early on.
With good side hiking
The next day we approached "the narrows" on our way to the confluence
Buckskin is a great spot to take a quick lunch break, about 8 miles from Whitehouse. Here is the view looking down canyon from the confluence.
Now looking up canyon at the confluence, Buckskin coming in on the L, the Paria on the R
Onward!
Soon, the cottonwoods began to make an appearance as the canyon folded onto itself.
The goal for the day was "Big Spring" - a perennial gushing spring coming out of the the sandstone at roughly mile 12 from the Whitehouse TH.
My parents and friends would lay over at Big Spring and day hike down canyon the following day while I had that to get back home for that dreaded commitment known as "work."
Big Spring:
The camp across from Big Spring must be a popular one, I will just say an aggressive mouse chewed through a tarp tent and into a bag of trail mix. I got lucky by hanging my pack/food
I woke up the next morning with a slight headache from the gin and tonics the previous evening and hung out until around 10 before I headed back to Whitehouse. You can get from the TH to Big spring in about 4-5 hours. I didn't see another person all the way back to my car.
It was a short trip (for me) but a great one none the less. Its very easy to go slow in the canyons of the Paria as it is a place that rewards the unhurried itinerary. Having done the through hike to Lee's Ferry the previous year I enjoy spending all my time in the canyon as the last 20 miles before meeting Lee's Ferry is a hot open slog. I can't wait to return.
Featured image for home page: