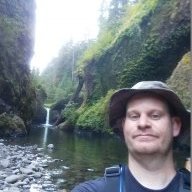 Joined

Sep 18, 2017
Messages

118
Oooof! That sounds nasty.

I took a small biff on this ride. Not really sure what happened. I was riding into the sun with intermittent spots of shade, so visibility was a bit of an issue. As I came around a slight curve I just felt the tires get loose and the bike skidded out from under me. I almost posted a short video, but it is not really exciting or even very funny. No pain at the time. I spent the rest of the day helping my bro-in-law move. I have been a little sore yesterday and today, but not sure if it is due to the biff or the move. Probably a little from columns A and B.

Glad you recovered and are back in the saddle!