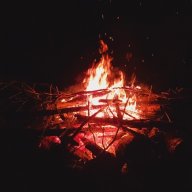 Joined

Aug 13, 2019
Messages

120
What Jackson said is good advice. Both of those wilderness areas have places that meet your criteria.

Funny thing. I'm now in your same boat. I think I mentioned in my earlier reply to this thread that my friends might not be able to backpack with me for our annual late August/early September Wind Rivers trip this year.

It's looking grim. One buddy has 2 to 3 "excuses" and won't commit. The other doesn't want to go if it's just him and me. So, I'm left with the options of going solo, canceling altogether, doing a different kind of trip (maybe a fishing trip with my old man, etc. I'm contemplating posting a thread here on BCP asking if anyone is headed out for the same time frame and wants to join me and the one friend (who wasn't excited about a BCP stranger joining) or letting me tag along on their trip.

I'm still weighing my options and trying to figure out what to do. But I do have some empathy for you now!
I understand it's tough committing to allow a stranger to go on a trip, not knowing the person's abilities, not knowing their personality or values or, if subjects come up, their politics...
Doesn't sound like I was invited but I do have the week leading up to Labor Day off as well, and if I don't find something to do with these next 2 weeks off starting tomorrow I'm throwing them back and taking them in October I think...at my job they only allow one electrician to go out at a time, filled by a floating vacation relief guy, and I think September is pretty much taken already.
Never considered the Winds...beggars can't be choosers.
Well anyway, in case an offer were to come my way I'll say I like to do 6 to 10 mile days depending on the brutality of elevation gain, I'm a pretty nice guy I think...and I usually can tell when it's best to switch subjects if we're disagreeing! What more is there to it? Oh, and I'm probably in dire need of a backpack shakedown, preferably to leave things behind, not replace thousands of dollars worth of equipment with thousands of dollars worth of other lighter equipment!
Last edited: