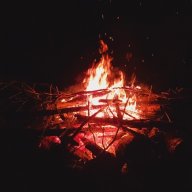 Joined

Aug 13, 2019
Messages

138
How did you meet most of your backpacking companions?

Do you have a handful or a few?

I only have a few backpacking friends....and that's OK until it isn't...

When the amount of backpacking friends you have can be counted on one hand it's great until you REALLY want to go and they can't go. Especially when it comes time for the big vacation type trip...then you're just flat out ****ed if they can't go, you won't go solo, and you'd be really resentful to pay a guide a lot of money to go with a group when you have a good idea what you are doing out there and are fully equipped....and that's IF they have a spot open on a trip that wouldn't be half as good as one you can think up.

Now let's talk about the local NYC area clubs where I'm at....people meeting up to drive 10 hours for a 2 day weekend in the Adirondacks...to do 15 mile days...or an overnight in Harriman Park, within eyesight of NYC and Indian Point Nuclear Power Plant. NOT interested....the only thing I'd be interested in is maybe meeting one or two people I actually was compatible with...after doing a whole bunch of pretty MEH trips like that...for the purpose of friendship and doing MMUUCCHH better trips in the future.

But something has to give. In 2 weeks I have 2 weeks off and can go pretty much anywhere, but I have nobody to go with and so I'm in pissed off panic mode. I'll also be turning 54 so it's starting to feel REALLY urgent if I'm going to salvage my life in this department.

This should have been solved 20 years ago when I first started having this problem, but I wasn't up for the weekend trips that would feel like one-third driving or the milquetoast local trips when my mind was imagining things much more grand.

But that's probably what I had to do...maybe what I still have to do...

I'm open for advice...tear into me if you must...just don't suggest I go solo because it ain't happening.
Last edited: